PRAGUE, March 12, 2006 (RFE/RL) -- Dutch pathologists conducting an autopsy on Slobodan Milosevic should rule within hours on the cause of the former Yugoslav president's death.
Milosevic, who was entering the closing phase of his trial for crimes committed in the wars in the Balkans in the 1990s, was found dead in his cell at the detention center of the UN War Crimes Tribunal for the former Yugoslavia (ICTY) in The Hague on March 11.
The autopsy is being attended by a senior pathologist from Serbia, an indication of the political sensitivities surrounding the death of a man who was held largely responsible for the Balkan wars but who enjoyed continued support among parts of the Serbian population.
A UN spokesman said officials had denied a request for the autopsy to be performed in Russia.
The initial results of the autopsy are expected late on March 12 or during the morning of March 13.
Poisoning, Suicide, Or Ill-Health?
Milosevic, who was 64 when he was found dead in his cell at the tribunal's detention center in The Hague, had been suffering from cardiovascular problems and high blood pressure.
"All responsibility [for Milosevic's death] is on that tribunal, and obviously on those law bodies and people in Belgrade who extradited him five years ago."
However, one of Milosevic's legal advisors, Zdenko Tomanovic, said on March 11 that there had been attempts to poison Milosevic in prison.
Tomanovic told reporters on March 12 that Milosevic had sent a letter to Russia on March 10 -- one day before he was found dead -- stating he had been given the wrong drugs.
But the UN's chief war crimes prosecutor, Carla Del Ponte, dismissed as "rumors" the allegations that Milosevic was poisoned.
Another possibility that has been mooted is that Milosevic committed suicide. His parents and an uncle ended their own lives.
Del Ponte did not rule out that Milosevic could have committed suicide. She said "we have no choice [but] between a normal natural death and suicide."
UN tribunal officials had earlier said that there are no indications that Milosevic had taken his own life.
Tribunal And Belgrade 'Responsible'
Whatever the precise cause of Milosevic's death, his family and political allies have already made it clear that they hold the UN tribunal bore responsibility for his death because in February it denied a request from Milosevic to undergo medical treatment in Moscow.
The tribunal argued he was receiving adequate treatment from doctors in The Hague, a position that it has reiterated since Milosevic's death.
Milosevic's brother, Borislav, said on March 12 that "all responsibility is on that tribunal, and obviously on those law bodies and people in Belgrade who extradited him five years ago."
He also said that his brother had "died undefeated and that is important for our people."
Regret that Milosevic died before a verdict could be passed has been a recurring feature of comments since his death.
That was a note struck again on March 12 by UN chief prosecutor Del Ponte, who said she "deeply" regretted Milosevic's death because it "deprives the victims of the justice they need and deserve."
Former U.S. diplomat Richard Holbrooke, who helped negotiate the Dayton peace accords for Bosnia with Milosevic, took a different view. "Although he won't serve out many years in jail, [Milosevic] paid the price by ending his life in jail," Holbrooke said.
"I never thought he would be a free man again. I didn't think he should be," said Holbrooke, who added that "over 300,000 people died, over 2.5 million [were made] homeless because of Milosevic."
A Serbian Or Montenegrin Resting Place?
Beyond the lingering questions about the cause of Milosevic's death lies the question of where he should be buried.
Borislav Milosevic called on March 12 for his brother to be laid to rest in Belgrade.
However, Slobodan Milosevic's daughter, Marija, has said that her preference is for her father to be buried in the Montenegrin town where Milosevic's own father was born and raised.
In Poor Health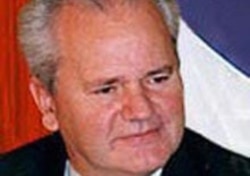 Slobodan Milosevic in an undated file photo (CTK)
HEART TROUBLES, HIGH BLOOD PRESSURE: Almost since the beginning of his trial in The Hague in February 2002, Slobodan Milosevic has been complaining of ill health. His trial has been repeatedly delayed as he sought medical treatment. As recently as February 24, the court declined Milosevic's request to travel to Russia for treatment for heart problems and elevated blood pressure, despite pledges from Moscow that Milosevic would be returned to The Hague to continue his trial on 66 counts of war crimes and crimes against humanity.
"[My health is] getting worse because of the decision that gives me no chance or adequate time to prepare my defense, and that is pretty clear," Milosevic told the court on July 5, 2004. " Because of that, I think that you have an obligation to give me adequate time."
"[The judges] have been very clear that there is no evidence to suggest that Mr. Milosevic is not fit enough to stand trial," court spokesman Jim Landale told journalists the next day. "They have decided that the time has possibly come for them to assign what is called a 'standby counsel.' That is a lawyer who would work alongside Mr. Milosevic and, were Mr. Milosevic to become ill again, be able to step in and represent his interests in court."
Of related interest:
Moscow Unhappy At Milosevic Travel Ban To Russia
Milosevic Seeks Leave For Health Checks In Russia
War Crimes Trial Takes Summer Recess Amid Concerns Over Milosevic's Health
See also:
Timeline: The Political Career Of Slobodan Milosevic
Slobodan Milosevic's Life And Legacy


THE COMPLETE PICTURE: An archive of RFE/RL's coverage of the trial of former Yugoslav President Slobodan Milosevic.
Of related interest:
RFE/RL Special: The Collapse Of Tito's Yugoslavia