But news agencies report the court has also ordered Mirjana Markovic to surrender her passport on arrival and to appear at a hearing.
Markovic is currently living in Russia to escape abuse-of-power charges in Serbia.
Meanwhile, Milosevic's son, Marko, has flown to the Netherlands to claim his father's body. The elder Milosevic died in custody on March 11 at the war crimes tribunal in the Hague.
Marko Milosevic said the funeral could take place in Moscow because, he said, Serbian authorities "are using threats, officially and unofficially" to avert a funeral.
Marko Milosevic said he believes his father was murdered.
(compiled from agency reports)
In Poor Health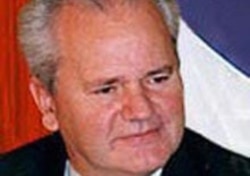 Slobodan Milosevic in an undated file photo (CTK)
HEART TROUBLES, HIGH BLOOD PRESSURE: Almost since the beginning of his trial in The Hague in February 2002, Slobodan Milosevic has been complaining of ill health. His trial has been repeatedly delayed as he sought medical treatment. As recently as February 24, the court declined Milosevic's request to travel to Russia for treatment for heart problems and elevated blood pressure, despite pledges from Moscow that Milosevic would be returned to The Hague to continue his trial on 66 counts of war crimes and crimes against humanity.
"[My health is] getting worse because of the decision that gives me no chance or adequate time to prepare my defense, and that is pretty clear," Milosevic told the court on July 5, 2004. " Because of that, I think that you have an obligation to give me adequate time."
"[The judges] have been very clear that there is no evidence to suggest that Mr. Milosevic is not fit enough to stand trial," court spokesman Jim Landale told journalists the next day. "They have decided that the time has possibly come for them to assign what is called a 'standby counsel.' That is a lawyer who would work alongside Mr. Milosevic and, were Mr. Milosevic to become ill again, be able to step in and represent his interests in court."
Of related interest:
Moscow Unhappy At Milosevic Travel Ban To Russia
Milosevic Seeks Leave For Health Checks In Russia
War Crimes Trial Takes Summer Recess Amid Concerns Over Milosevic's Health
See also:
Timeline: The Political Career Of Slobodan Milosevic
Slobodan Milosevic's Life And Legacy


THE COMPLETE PICTURE: An archive of RFE/RL's coverage of the trial of former Yugoslav President Slobodan Milosevic.
Of related interest:
RFE/RL Special: The Collapse Of Tito's Yugoslavia