Campaigning Begins In Azerbaijan For Repeat Elections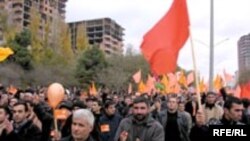 A demonstration in Baku on Nov. 26, 2005, against the results of the parliamentary elections (RFE/RL) March 14, 2006 -- Today marks the beginning of the campaign for the May 10 repeat legislative elections in Azerbaijan.
Central Election Commission spokesman Azer Sariyev told the Turan news agency 154 candidates would be vying for the 10 parliamentary seats that remained vacant after
the disputed November 6 election
.
Most of Azerbaijan's opposition parties have refused to take part in the repeat polls, saying the current legislature has no legitimacy. Of the main anti-government political groupings, only Musavat will file candidates.
The country's ruling party, Yeni Azerbaycan (New Azerbaijan), has won a majority of seats in the November 6 polls, which the opposition claim was fraudulent. Authorities have voided the outcome of the polls in 10 constituencies, but rejected accusations of massive fraud.
International organizations said the November 6 election failed to meet a number of democratic standards.
(Turan)