Saddam Hussein Ends First Day Of Testimony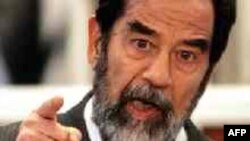 Deposed Iraqi leader Saddam Hussein in court (file photo) (AFP) March 15, 2006 -- The deposed Iraqi leader Saddam Hussein has ended his first day of formal testimony in his trial for the imprisoning, torture, and killing of Iraqis in the 1980s.
Hearings were brought to a close after Hussein used his appearance to launch a political diatribe. The presiding judge initially told Hussein no political speeches were permitted in the courtroom, and then closed the trial to the public. He subsequently adjourned the trial until April 5.
During his time in the witness stand, Hussein dismissed the trial as a "comedy," urged Iraqis to fight the "invaders," and insisted he remains the leader of the country.
(compiled from agency reports)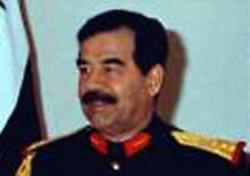 For a timeline of former Iraqi President Saddam Hussein's life from his rise within the ranks of the Ba'ath Party and the Revolution Command Council to his regime's ruthless persecution of perceived enemies at home and abroad, click here.