Iran Frees High-Profile Dissident
Ganji (right) with his wife in Tehran on March 18 (Fars) March 18, 2006 -- Iranian dissident journalist Akbar Ganji has been released after spending six years in prison.
Masoumeh Shafei, Ganji's wife, told reporters today that the release came as a surprise.
"He was released last night," Shafei said. "I did not know when he would be released. I was surprised about it, I am really happy."
However, Tehran's deputy prosecutor-general for prison affairs, Mahmud Salarkia, said Ganji was on leave, as his prison term will end only on March 30. It was not immediately clear whether Ganji would therefore have to return to prison for a few days.
Ganji has been imprisoned since 2000 after writing a series of articles linking senior officials to the murder of political prisoners.
He was considered the Islamic republic's highest-profile political prisoner.
(AP, AFP, Reuters)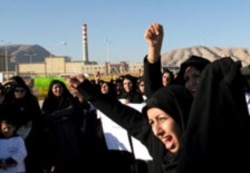 A demonstration in support of Iran's nuclear program outside the Isfahan uranium-conversion facility in Isfahan in January (epa)

IRANIANS SPEAK OUT ON THE DISPUTE: To find out more about what Iranians think about the international controversy over their country's nuclear program, RADIO FARDA asked listeners to express their views....(more)
See also:
Iran: Public Has Mixed Feelings On Nuclear Issue

THE COMPLETE PICTURE: RFE/RL's complete coverage of controversy surrounding Iran's nuclear program.
CHRONOLOGY
An annotated timeline of Iran's nuclear program.