Iran: Reformist Party Calls For U.S. Talks, Nuclear Freeze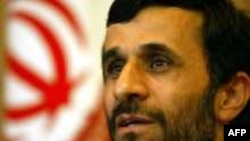 Ahmadinejad's foreign policy is being assailed (file photo) (AFP) Iran's largest reformist party has called for a freeze on sensitive nuclear work and a dialogue with the United States in an effort to stave off an escalating crisis over Iran's nuclear program. The Participation Front (IIPF) is proposing a return to previous policies and the voluntary suspension of all nuclear-fuel-cycle work.
PRAGUE, March 20, 2006 (RFE/RL) -- The Islamic Iran Participation Front (IIPF) expresses "serious concern" over the future of Iran and warns in its statement that if the current crisis is not contained it will have "damaging" consequences for the country.
The statement says "the danger" is so serious that it can't be overcome with "propaganda and the use of nationalist and patriotic sentiments."
"The Iranian government should gain the confidence of the international community that [Iran's] aim is to use nuclear energy peacefully. This is only possible with more respect for human rights and an expansion of democracy in Iran."
Unusual Protest
Many observers consider the IIPF statement as its strongest criticism of the Iranian government's nuclear policies under President Mahmud Ahmadinejad.
But Mohammad Sadegh Javadi Hesar, a former legislator and a political analyst in Mashad, says it is highly unlikely that the statement will have any effect on Iran's nuclear policies.
"I think by issuing this statement the Mosharekat Front (IIPF) has been willing to accomplish its duty because they had to announce their stance regarding this issue but they have also said that they have no hope that it will have a big effect on policymakers," he says.
The Participation Front says that "current decision-makers" are responsible for Iran's independence and territorial integrity and they should not jeopardize Iran's national interests by adopting "policies that have been proven wrong over and over again."
Avoiding Sanctions
Iran's main pro-reform party says that the current crisis should be resolved in order to prevent sanctions, isolation, and -- in the worst case -- military action against the Islamic republic.
The IIPF makes several proposals for ending the crisis, including a return to the policy of detente adopted by former Iranian President Mohammad Khatami.
It also calls for "serious control" over the talk and behavior of Iranian officials.
The Participation Front says Iran should reestablish trust and return to a voluntary suspension of all activities related to the nuclear-fuel cycle.
It also says that the Islamic republic should resume a dialogue "with all the influential nations on the UN Security Council, especially the United States."
Javadi-Hesar says Iran's recent announcement that it will hold talks with the United States on Iraq has caused many political groups and parties, including the Participation Front, to express their stance.
Talking To Washington
He adds that many believe that Iran's negotiations with the United States should include the nuclear issue.
"When talks resume between two sides that have been at odds for a long time over different issues, it is natural that the main disputed issue is also included in the agenda of the talks," Javadi-Hesar says. "It is widely expected inside the country and also outside that the extent of the talks will be widened and that [Iran and the United States] will have serious negotiations leading to detente in the relations between the two countries."
Both Iran and the United States have insisted that talks will focus only on issues related to Iraq and that there will be no negotiations on other issues.
The Participation Front says in its statement that any talks with the United States should be transparent and the nation should be informed about the course of talks.
The front also blames the confrontational style of policies of Ahmadinejad's conservative government for the international stand against the Iranian government.
The IIPF points to provocative statements by the Iranian president, changes in foreign policy, the appointment of hard-line officials, and the use of hostile vocabulary in conducting foreign relations.
Javadi Hesar, however, believes that the Participation Front and former reformist officials are also to be blamed for the current crisis situation.
"If the country's affairs are now in the hands of hard-liners, it is a result of the policies and management of those who lead the country and created a situation where people couldn't trust and support the reformists anymore; as a result, now the country is under the control of a group that reformists call extremist," he says.
Last week, Iranian reformist cleric and former presidential candidate Mehdi Karrubi also criticized Iran's nuclear policy and warned against making "unwise remarks" that would further complicate the crisis.
Karrubi expressed hope that the nuclear issue will be resolved through negotiations and said that sanctions would lead to "great difficulties."
Ebadi Speaks
Meanwhile, Iranian Nobel Peace Prize winner Shirin Ebadi said at a news conference in Paris on March 9 that the Islamic Republic should work to win international confidence that its nuclear program is peaceful by showing a greater respect for human rights.
"The Iranian government should gain the confidence of the international community that [Iran's] aim is to use nuclear energy peacefully," she says. "This is only possible with more respect for human rights and an expansion of democracy in Iran."
Ebadi added that if the world is worried today, it is because democracy is incomplete in Iran.
Iran says its nuclear program is peaceful. But Washington accuses Iran of secretly developing nuclear weapons.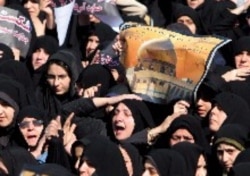 Iranian Shi'a protesting the Golden Mosque Bombing in Iraq on February 24


WHAT IS GOING ON? On March 8, RFE/RL's Washington office hosted a roundtable discussion on relations between Iraq and Iran. Although most analysts agree that Iran has been actively involved in Iraq since the U.S.-led military operation to oust former Iraqi President Saddam Hussein, they continue to debate the nature, extent, and intent of that involvement.
The RFE/RL briefing featured WAYNE WHITE, former deputy director of the U.S. State Department Bureau of Intelligence and Research's Office of Analysis for the Near East and South Asia, and A. WILLIAM SAMII, RFE/RL's regional analyst for Iran and editor of the "RFE/RL Iran Report."
LISTEN
Listen to the complete RFE/RL briefing (about 75 minutes):

Real Audio
Windows Media
RELATED ARTICLES
Iran/Iraq: Bilateral Ties Improving Despite U.S. Worries
Renewed Speculation About Tehran And Instability In Iraq
Iran/Iraq: Neighbors Mending Ties, But Outstanding Issues Remain
ARCHIVE
RFE/RL's
coverage of Iran
. RFE/RL's
coverage of Iraq
.