Russia Refuses To Compensate Lithuania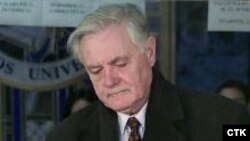 Lithuanian President Valdus Adamkus wants Russian to apologize to Lithuania for a half-century of occupation (file photo) (CTK) March 23, 2006 -- Russia said it would not pay compensation to Lithuania for damages caused by half a century of occupation.
Russia's special envoy to the EU, Sergei Yastrzhembsky, said after meeting with Lithuanian President Valdas Adamkus that Lithuania should stop making such demands if it wants good relations with Moscow.
However, Adamkus said that Putin had made apologies in Prague and Budapest, and Moscow has to say "the same words of apology to the Lithuanian people."
The Soviet Union occupied Lithuania in 1940. The country regained its independence in 1991. Lithuania's parliament adopted a law several years ago that estimated damage caused to the country by the Soviet occupation at $20 billion.
(AP, AFP)