KYIV, March 24, 2006 (RFE/RL) -- President Yushchenko's Our Ukraine Party, according to opinion polls, will not gain enough seats in the March 26 parliamentary elections to form the next government.
To do so, Our Ukraine will need to form an alliance -- and Ukrainians have been speculating for weeks whether it will be with its main rival, the Party of Regions, or whether the once-formidable Orange coalition could be pieced back together by joining forces with the Yuliya Tymoshenko Bloc.
Our Ukraine's deputy campaign chief, Roman Zvarych, told RFE/RL in an interview this week that there is no prospect of an Our Ukraine alliance with Yanukovych, a man who is seen to represent all that the supporters of the Orange Revolution oppose.
But Yushchenko himself and some of his closest advisers have been noncommittal when asked if a coalition with his rival in the bitterly contested 2004 presidential elections is a possibility.
Voters Need To Know
Speaking at a recent news conference, Tymoshenko called on the president to clarify his position. "This question, on the eve of the elections, is key for Ukrainian society," she said. "People will make a decision about the way they vote depending on his reply. The absence of a clear reply to this question might be taken by society as an indication there could be a coalition with Viktor Yanukovych."
Tymoshenko told RFE/RL that a coalition between Our Ukraine and the Party of Regions would be disastrous for Ukraine. She said that the Party of Regions holding more seats in parliament than Our Ukraine, and the greater powers granted to parliament following constitutional changes, could combine to marginalize the president and his party under such an alliance.
"Therefore, when people tell me that it is absolutely OK if the Our Ukraine Party of Yushchenko together with Yanukovych's Party of the Regions forms such a grand coalition then I know that this is not only bad but in practice is the end of everything we were doing 18 months ago [in the Orange Revolution] because Yanukovych will enter parliament this time with a significantly bigger team than Our Ukraine and especially after the change in the constitution, when the prime minister will have significantly greater powers than the president, then Yushchenko and his team will be consigned to the role of a bystander watching the enactment of somebody else's policies and priorities and I regard this as absolutely intolerable."
'Business Clan
'
Tymoshenko believes that Yanukovych seeks to reverse the pro-Western orientation introduced by her government and continued by current Prime Minister Yuriy Yekhanurov. She said that she wants to continue developing closer ties with the West, especially the European Union.
She told RFE/RL that if Yanukovych wins control of parliament in the elections, Ukraine's prospects will be grim.
"I regard this as a tragedy for Ukraine for many reasons," she said. "Firstly, I do not count the Party of the Regions as a political party, it's simply a huge business clan that will place its business interests, among them illegal ones, far above considerations for law and order and fairness in the country."
She said Yanukovych's main goal upon coming to power would be to strengthen the powerful business clan centered around the eastern Ukrainian city of Donetsk.
Tymoshenko said Ukraine lost an opportunity to strike a blow against the country's business clans and organized-crime network. She also told RFE/RL that Yushchenko's administration did not do enough to crack down on prominent members of former President Leonid Kuchma's regime.
"I think the president and his team made a big mistake because instead of forcing certain clan-based groups to operate on an absolutely legal basis -- that is according to the law and the constitution, or to call them to responsibility before the law, they in practice gave them a new lease of life," she said. "They let them free to fly off like birds and they thanked those who today are destroying the Orange team."
Tymoshenko further blamed the rupture between her party and Our Ukraine, which led to the dismissal of her government and herself as prime minister last fall, on people she accused of corruption within the president's camp.
She said she has learned from the experience and vows to demand that those members of Yushchenko's party be excluded from public office should she return to her post as prime minister.
'Close My Eyes And Think Of Ukraine'
However, despite her differences with President Yushchenko, Tymoshenko has repeatedly said that she is willing to enter a new alliance with Our Ukraine.
While she admits that she was personally hurt when Yushchenko fired her as prime minister in September 2004, she said she would not let her pride become an obstacle to forging a new Orange coalition.
Tymoshenko said that when faced with the prospect of having to work again with people who hurt her she is reminded of the advice Britain's Queen Victoria gave her daughter when she was about to wed a man who wasn't very attractive.
Victoria famously told her daughter to "close her eyes and think of England," and Tymoshenko said, "I suppose I must close my eyes and think of Ukraine."
Spotlight On Yuliya Tymoshenko
Spotlight On Yuliya Tymoshenko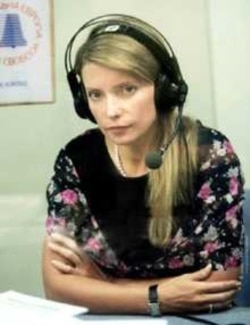 READ
Former Prime Minister
YULIYA TYMOSHENKO
has long been a controversial figure in Ukrainian politics. A former economist and head of Unified Energy Systems (EES) of Ukraine from Dnipropetrovsk in eastern Ukraine, Tymoshenko served as deputy prime minister for energy in the cabinet of Viktor Yushchenko, when he was prime minister under former President Leonid Kuchma. She has faced legal troubles linked to corruption allegations both in Ukraine and in Russia, although all cases against her have now been dropped. Tymoshenko was a firebrand of the opposition movement during the 2004 Orange Revolution, leading demonstrators to surround the presidential administration and issuing ultimatums to the Kuchma government.
In March 2005, President Viktor Yushchenko named her prime minister, a post that she held until September of that year. In August, on the occasion of the six-month anniversary of her appointment, Tymoshenko spoke with RFE/RL at length, discussing, among other things, the then-looming gas conflict with Russia and the likelihood of a "difficult and dirty" battle in the upcoming parliamentary elections
....(more)
See also:
Interview -- Yuliya Tymoshenko Marks First 100 Days As PM
Former Prime Minister Offers President Olive Branch
Former Prime Minister Tymoshenko To Go It Alone

ARCHIVE: An archive of RFE/RL's reporting and analysis on Ukraine's Orange Revolution.
LISTEN
Listen to an audio portrait of the Orange Revolution from RFE/RL's archives. Click
here
for Real Audio and
here
for Windows Media.