Prague, 11 January 2006 (RFE/RL) -- Ukrainian President Viktor Yushchenko endured bitter cold today in the Kazakh capital Astana.
Temperatures there dipped to minus 25 degrees as heads of state gathered for the inauguration of their Kazakh counterpart Nursultan Nazarbaev.
But Yushchenko might have felt even more of a chill back in Kyiv.
There, lawmakers yesterday dispatched a frosty message to the Ukrainian president by voting to dissolve the government.
Yushchenko blasted the decision in comments today in Astana: "Yesterday's decision remains incomprehensible, illogical, and wrong. I don't think Ukraine deserves such a decision 80 days before parliamentary elections. This decision only serves to destabilize the situation."
Deputies in the Verkhovna Rada yesterday passed a resolution of no-confidence in the government of Prime Minister Yuriy Yekhanurov.
Gas Deal
They said last week's gas deal with Russia -- which Yekhanurov and Yushchenko hailed as a diplomatic victory -- had, to the contrary, threatened Ukraine's security interests and would fail to keep gas prices low in the long term.
Among those leading the charge to unseat Yekhanurov was his ousted predecessor, Yuliya Tymoshenko.
Tymoshenko, a stalwart Yushchenko ally during last year's Orange Revolution, was fired last September on charges of abuse of office.
Talks of a potential truce had followed, but after yesterday's vote it appears clear that Tymoshenko and Yushchenko will not be political partners anytime soon. "Everything that was done today was right," Tymoshenko said. "The parliament, which has acquired new powers from 1 January is beginning to assume responsibility for events in the country, including those in the gas market."
The no-confidence motion was supported by 250 deputies from not only the Yuliya Tymoshenko Bloc, but also the Party of Regions led by former Prime Minister Viktor Yanukovych, Yushchenko's defeated rival in the Orange Revolution.
Other blocs supporting yesterday's vote were the Social Democratic Party-united, the Communist Party, and two groups supporting parliamentary speaker Volodymyr Lytvyn, a powerful political force in his own right.
Tymoshenko, Lytvyn, and Yanukovych are unlikely political allies, perhaps united only by their common desire to see Yushchenko toppled.
Oleksandr Sushko, the head of the Center for Peace, Conversion, and Foreign Policy, a Kyiv-based think-tank, says yesterday's vote was a form of political payback. "I think that in a sense it's revenge by those who, at some time and in some manner, did not manage to realize their ambitions," Sushko said. "Here the interests of former authorities -- the factions of former [President] Kuchma, and also factions led by former Prime Minister Tymoshenko, who was a part of the leadership of the Orange Revolution -- have coincided."
Parliament To Take Break
The immediate consequences of the vote to dismiss Yekhanurov's government is unclear.
The parliament is due on Friday to close for a three-week winter break, and lawmakers have already asked Yekhanurov to remain in a caretaker role until the 26 March legislative elections.
Constitutional reforms enacted 1 January further confuse the issue of what, if any, powers the dismissed government can retain.
Nor is it clear what, if any, impact the move will have on the status of Ukraine's affordable but murky gas deal with Russia.
But yesterday's vote will have certain political consequences in the days and weeks before the parliamentary poll, which will produce a more powerful legislature with a decisive say in the formation of the government.
Yuriy Yakymenko heads the political and legal studies at the Oleksandr Razumkov Center for Economic and Political Studies in Kyiv. He says the vote has very little to do with the integrity of either Yekhanurov's government or the Russian gas deal.
But he says it has everything to do with pre-election politics. "I think all developments from here will be related to the election. There will be on the one hand very strong criticism of the parliament [by the president and his supporters], and on the other hand the opposition will try to discredit the government and the president," Yakymenko said.
The political sparring has already begun. Members of the pro-presidential Our Ukraine parliamentary bloc today tried -- and failed -- to bar Lytvyn from continuing to serve as speaker, saying he had no right to hold a vote on the government's dismissal.
Spotlight On Yuliya Tymoshenko
Spotlight On Yuliya Tymoshenko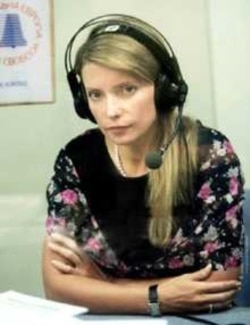 READ
Former Prime Minister
YULIYA TYMOSHENKO
has long been a controversial figure in Ukrainian politics. A former economist and head of Unified Energy Systems (EES) of Ukraine from Dnipropetrovsk in eastern Ukraine, Tymoshenko served as deputy prime minister for energy in the cabinet of Viktor Yushchenko, when he was prime minister under former President Leonid Kuchma. She has faced legal troubles linked to corruption allegations both in Ukraine and in Russia, although all cases against her have now been dropped. Tymoshenko was a firebrand of the opposition movement during the 2004 Orange Revolution, leading demonstrators to surround the presidential administration and issuing ultimatums to the Kuchma government.
In March 2005, President Viktor Yushchenko named her prime minister, a post that she held until September of that year. In August, on the occasion of the six-month anniversary of her appointment, Tymoshenko spoke with RFE/RL at length, discussing, among other things, the then-looming gas conflict with Russia and the likelihood of a "difficult and dirty" battle in the upcoming parliamentary elections
....(more)
See also:
Interview -- Yuliya Tymoshenko Marks First 100 Days As PM
Former Prime Minister Offers President Olive Branch
Former Prime Minister Tymoshenko To Go It Alone

ARCHIVE: An archive of RFE/RL's reporting and analysis on Ukraine's Orange Revolution.
LISTEN
Listen to an audio portrait of the Orange Revolution from RFE/RL's archives. Click
here
for Real Audio and
here
for Windows Media.