Campaigning Winds Down In Ukraine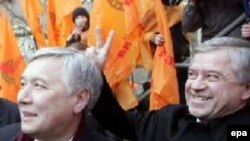 Ukrainian Prime Minister and leader of the pro-president political party, 'Our Ukraine,' Yuriy Yekhanurov (left) smiles during a rally in central Kyiv today (epa) March 24, 2006 -- Today is the final day of campaigning ahead of Ukraine's parliamentary election on March 26.
Forty-five blocs and parties are participating in the vote, but correspondents say only a handful are believed to have a realistic chance of getting representation in the 450-seat parliament.
The Party of Regions, led by Viktor Yanukovych, leads in opinion polls, while President Viktor Yushchenko's Our Ukraine party is in a tight race with the party of former Prime Minister Yuliya Tymoshenko for second place.
At a rally attended by some 15,000 supporters in the city of Lviv, Tymoshenko today reiterated that her party was ready to team up with Yushchenko's party, its former Orange revolution ally, after the election.
Yushchenko's chief of staff, Oleh Rybachuk, said today the president would like to see a coalition that would support democratic reform and dynamic development in parliament.
(Interfax-Ukraine, AP)
BEHIND THE IMAGES: Click on the links below to read RFE/RL's profiles of some of the key players in Ukraine's March 26 legislative elections:

Click on the image for background and archived articles about Ukraine's March 26 elections.




Click on the image to see RFE/RL's coverage of the Ukrainian elections in Ukrainian.

Click on the image to view a photo gallery of some of the key players in the Ukrainian elections.