RFE/RL correspondent Askold Krushelnycky reported from Kyiv that the vote is going smoothly

"I haven't heard of any untoward incidents," he said. "Everything seems to be going smoothly. The only problem that is anticipated is that there aren't enough staff and enough polling stations to handle all the voters. It means that polling stations may have to remain open longer than the 10 p.m. deadline."

Krushelnycky said that what is at stake in these elections are many of the same issues that were crucial in the presidential elections of 2004. These include whether Ukraine will aim for tighter relations with the West or whether it will again seek a closer union with Moscow.

Orange Disillusionment

According to Krushelnycky, disillusionment with President Viktor Yushchenko's government has left his Moscow-backed rival, Viktor Yanukovych, poised to bounce back onto the political scene.

"The pro-Russian candidate, Viktor Yanukovych, has made a remarkable comeback -- people say -- and is thought to get the biggest single share of the vote in today's election," he said. "But he probably will not get control of parliament."

If that happens a coalition would be needed to form a new government. Krushelnycky said Yushchenko's Our Ukraine bloc would be unlikely to team up with Yanukovych's Party of the Regions.

The question now is whether the two popular "heroes" of the Orange Revolution, Yushchenko and his rival Yuliya Tymoshenko, will be able to unite and form a government.


"The biggest speculation has been about the possible coalition after the results are known," Krushelnycky said from Kyiv. "The people who supported the Orange Revolution hope that Viktor Yushchenko's party, Our Ukraine, and the party of Yuliya Tymoshenko, the Yuliya Tymoshenko Bloc, will be able to form a government."
Tymoshenko was sacked by Yushchenko from the post of prime minister last September.
Forty-five parties and blocs are competing in today's vote, but only about six are expected to make it over the 3 percent barrier: Our Ukraine, Yuliya Tymoshenko Bloc, the Party of Regions, the Communist Party, the Socialist Party and Volodymyr Lytvyn's Ukrainian Popular Party.
(Click on the icon to view images of today's voting prepared by RFE/RL's Ukrainian Service with captions in Ukrainian. To follow the Ukrainian Service's coverage,
click here
.)
Torn Between East And West
Torn Between East And West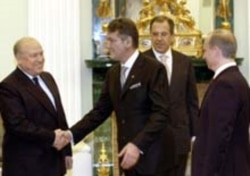 Yushchenko (center) with Russian Ambassador to Ukraine Viktor Chernomyrdin (left), Russian Foreign Minister Sergei Lavrov (rear), and Russian President Vladimir Putin (AFP file photo)
IN WHOSE ORBIT? Just over a year ago, tens of thousands of Ukrainians led an extended public uprising that toppled the country's entrenched, pro-Russia regime. But the country remains deeply divided between the east, where ethnic Russians look toward Moscow, and the west, which yearns for deeper integration with Europe. Can Ukraine elect a legislature that represents this torn country? (more)
See also:
Moscow Silent In The Run-Up To Ukraine's Elections
Is Kyiv On Stable Path Toward Integration With World Economy?
Western Neighbors Keen To Help Transition To Democracy

Click on the image for background and archived articles about Ukraine's March 26 elections.




Click on the image to see RFE/RL's coverage of the Ukrainian elections in Ukrainian.