Ukraine: Yushchenko Headed For Defeat In Parliamentary Elections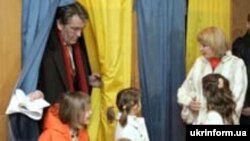 Viktor Yushchenko voting on March 26 (Ukrinform) President Viktor Yushchenko looks headed for a remarkable defeat in Ukraine's first parliamentary elections since the Orange Revolution just over a year ago. Independently conducted exit polls issued shortly after the polling stations closed at 10 p.m. put his Our Ukraine bloc in third place. The pro-Russian Party of Regions looks almost certain to take first place but will fall well short of a majority. Forty-five parties contested the election but polls suggest that only five of them will clear the 3 percent barrier needed to win a place in Ukraine's 450-set Verkhovna Rada.
PRAGUE, March 26, 2006 (RFE/RL) -- The negotiations are already under
way to form a coalition government -- now the only conceivable outcome
of an election that has struck a severe blow to the dreams of the
Orange Revolution.
Supreme National Security Council Secretary Anatoliy Kinakh appeared to
hint today that President Yushchenko is looking to strike a deal with
his erstwhile ally and co-leader of the Orange Revolution, Yuliya
Tymoshenko. The exit polls indicate that she has edged Yushchenko's
party for second place.
"Consultations are constantly under way but we categorically reject
consultations and the formation of coalitions on the basis of primitive
division of posts," Kinakh said. "It's very important for us to unite
programs, ideology, and methods, which will make it possible to
strengthen the irreversible development of Ukraine as a democratic
state based on the rule of law."
That would appear to rule out a deal with the winning Party of Regions.
It is pro-Russian and led by the man Yushchenko defeated in the
bitterly contested presidential election of late 2004.
Viktor Yanukovych opposes many of the pro-Western reforms supported by
the leader of the Orange Revolution and would seek to turn Ukraine back
toward Moscow.
Fair Vote An Achievement
Yushchenko hailed the vote as the most fair and democratic ever held in
Ukraine and called it one of the country's biggest achievements in
recent years.
The head of the electoral monitoring mission from Organization for
Security and Cooperation in Europe, Christian Strohal, appeared to
agree.
"I think what we can say is that we have been welcomed here and
received extremely frankly and with open arms and we have come here
with an equally open mind and we see this observer mission as a
consolidation of democracy in the Ukraine," Strohal said.
But Taras Chornovil, spokesman for the Party of Regions, was not so
sure. He told RFE/RL's Ukrainian Service that the lines of voters in
the eastern part of the country, which provides the bedrock of his
party's support, were longer than elsewhere and that the government had
deliberately enlarged the voting districts.
"The lines are a catastrophe. I read on the Internet that some lines in
Donetsk Oblast had a 40-minute waiting period," he said. "I called my
friends and they told me that the lines are three-four hours long. In
Kyiv, they average 40 minutes. In the morning there were no lines but
now they are there. It is a problem."
The irony of Chornovil's complaint will be lost on no one in Ukraine.
Blatant falsification of the vote by Yanukovych, now the leader of the
Party of Regions, led to the nullification of the presidential election
in December 2004 and the rerun that ended in the triumph of the Orange
Revolution.
But today's vote shows just how dramatically popular disillusionment
with Yushchenko's government has eaten into his support. Opinion polls
have repeatedly shown that people are angered by the sharp slowdown in
economic growth and the infighting between the leaders of the Orange
Revolution.
Yushchenko dismissed Tymoshenko as prime minister in September last
year, blaming her for Ukraine's floundering economic performance. Now
he may have little choice but to ask her to return.
If Yushchenko is to retain control of a parliament whose powers are
soon to be enlarged at the presidency's expense, he will have to make
some hard choices. Whatever balance of forces takes shape in the coming
weeks, Yushchenko most likely will emerge much weakened.
RFE/RL's Election Coverage