Georgia: TV Executives Receive Jail Sentences For Extortion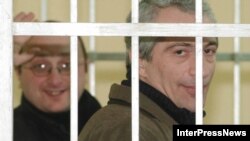 Shalva Ramishvili (left) and Davit Kokhreidze in court in February (InterPressNews) A Tbilisi court today sentenced the owner and former main anchorman of Georgia's private 202 television channel to four years in prison. Shalva Ramishvili was convicted of attempting to extort money from a pro-government lawmaker. The channel's director-general, Davit Kokhreidze, also received a three-year jail term on similar charges. Georgia's opposition and rights campaigners have said the case is politically motivated, while the government says it shows media is not immune to corruption.
PRAGUE, March 29, 2006 (RFE/RL) -- The trial of Shalva Ramishvili and Davit Kokhreidze has been going on since mid-January.
Nino Sandodze, the presiding judge at the Tbilisi municipal court, read the sentence before television cameras: "[The court rules that] Davit Kokhreidze be sentenced to three years in jail counting from the date of his arrest, August 27, 2005. [The court also rules that] Shalva Ramishvili be sentenced to four years in jail under Article 181, part two, paragraphs A and G of the Georgian Criminal Code. The terms of the sentence should be counted from the day of his arrest."
Although the sentences were slightly shorter than the five-year terms the Prosecutor-General's Office had requested, Kokhreidze's lawyer, Gocha Svanidze, told Georgia's private Imedi TV his client would appeal the verdict.
Kokhreidze's brother and business partner Goga today protested the outcome of the trial: "What [verdict] they reached today is that people were sentenced to years in jail on the basis of totally false evidence. They will pay for a crime they did not commit."
Ramishvili and Kokhreidze were convicted on charges of blackmailing Koba Bekauri, a member of the pro-government majority in parliament.
Hidden Camera
Shortly after the arrest of Ramishvili and Kokhreidze, police released hidden-camera video showing the two men accepting $30,000 from Bekauri. Police maintain the sum was part of an extortion scheme and that the final payment should have totaled $100,000.
Ramishvili and Kokhreidze have denied the charges, saying it was Bekauri himself who had offered him the money in return for a pledge to not broadcast a documentary film allegedly exposing his illegal business activities.
Ramishvili explained at his trial that he wanted to film the transaction with a hidden camera, but that he could not secure one in time. Instead, it is police who filmed the transaction with a video camera hidden on Bekauri.
The scandal that followed the men's arrest prompted the pro-government legislature to investigate allegations that Bekauri and other deputies owned shares in several customs terminals.
A parliamentary commission earlier this year concluded that those accusations were unfounded. But the opposition and a number of pro-government legislators have rejected those findings.
Bekauri himself resigned from parliament on February 18, saying he considered it his duty to quit after the recent scandal.
The arrests and trial of Ramishvili and Kokhreidze have stirred public debate, with authorities insisting that media must be free of corruption. Civic campaigners have accused the authorities of seeking to muzzle all critical voices.
In its 2005 report on media freedom worldwide, the New York-based Committee to Protect Journalists described the 202 television channel as "one critical news outlet...directly targeted"by the Georgian government.
Zviad Dzidziguri, a member of the Democratic Front opposition group in parliament, told reporters today the sentences handed down on Ramishvili and Kokhreidze were political.
"This decision was not reached by the court. It was reached by [President] Mikheil Saakashvili, his National Movement ruling party, and the country's political leadership," Dzidziguri said. "It was clear to everyone what the verdict would be. This court acted as a registration chamber that gave this decision a legal formulation to make it look more respectable. The verdict was reached at the time when Ramishvili and Kokhreidze were arrested."
Accusations Of Media Repression
Meanwhile, Federation of Georgian Businessmen (SBP) chairman and Imedi TV owner Badri Patarkatsishvili today accused the authorities of trying to muzzle independent media.
Addressing an SBP meeting, Patarkatsishvili claimed government pressure on Imedi TV has significantly increased since the channel last month broadcast a detailed report on the assassination of bank employee Sandro Girgvliani.
The 28-year-old Girgvliani was found dead in a Tbilisi cemetery on January 28. Four Interior Ministry officials were arrested and charged over the killing. Another two have been suspended pending the investigation. Civic campaigners, however, say higher-ranking officials may be involved and demand that Interior Minister Vano Merabishvili step down over the murder.
Pro-government lawmaker Giga Bokeria last week accused Imedi TV of bias over the Girgvliani case. But Patarkatsishvili today vowed to "continue telling the truth" and to not bow to pressure.