Speaking on CNN on April 2, Ali Asghar Soltaniyeh, Iran's ambassador to the IAEA, said the more the Security Council is involved, the worse the situation will become. He said confrontation must be prevented.
The Security Council last week unanimously adopted a statement calling on Iran to freeze its uranium-enrichment work.
Soltaniyeh said Tehran does not intend to use its enrichment program for atomic bombs and that it is open to negotiation to resolve the dispute.
U.S. Secretary of State Condoleezza Rice said today that Washington remains "committed" to pursuing a diplomatic solution to the crisis.
(AFP, Reuters)
What The Street Thinks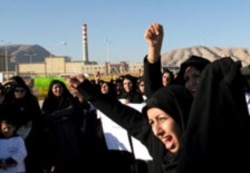 A demonstration in support of Iran's nuclear program outside the Isfahan uranium-conversion facility in Isfahan in January (epa)

IRANIANS SPEAK OUT ON THE DISPUTE: To find out more about what Iranians think about the international controversy over their country's nuclear program, RADIO FARDA asked listeners to express their views....(more)
See also:
Iran: Public Has Mixed Feelings On Nuclear Issue

THE COMPLETE PICTURE: RFE/RL's complete coverage of controversy surrounding Iran's nuclear program.
CHRONOLOGY
An annotated timeline of Iran's nuclear program.