U.S. Senator Says U.S. Should Respond 'Harshly' To Russia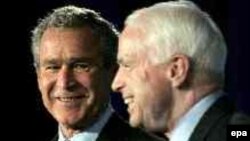 Senator McCain (right) shares the spotlight with President Bush in 2005 (epa) April 3, 2006 -- A top U.S. senator has said Washington should respond harshly to Russia's antidemocratic actions.
Senator John McCain (Republican, Arizona), a possible candidate for U.S. president in 2008, told American television that President Vladimir Putin has repressed Russians and their media, supported authoritarian President Alyaksandr Lukashenka of Belarus, and has not cooperated with the United States in dealing with Iran's suspected development of nuclear weapons.
McCain said Washington must respond. He said the "glimmerings of democracy are very faint in Russia today," and said he believes the U.S. reaction should be harsh.
McCain has urged U.S. President George W. Bush not to attend the G8 summit in St. Petersburg in July. Last week, Bush said he is concerned with Russia's crackdown on internal dissent but he would still attend the summit.
(AP)


UPDATED CONSTANTLY: Visit RFE/RL's Russian-language website, featuring news, analysis, features, streaming audio, and more, in Russian, from RFE/RL's Russian Service.
ARCHIVE
RFE/RL's English-language
coverage of Russia
.