Senior Hussein Aide Quizzed Over Summary Trial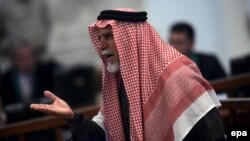 Awad Hamad al-Bandar Sa'dun giving testimony on April 6 (epa) April 6, 2006 -- Prosecutors in the trial of Saddam Hussein and former senior aides to the deposed Iraqi leader today questioned the former head of the Revolutionary Court, Awad Hamad al-Bandar Sa'dun.
The prosecutors sought to show that al-Bandar Sa'dun gave 148 Shi'ites only a cursory trial following a 1982 assassination attempt on Hussein in the town of Al-Dujayl.
The defendants were subsequently executed.
Hussein did not attend the court session.
The trial has adjourned until April 12.
(AP, AFP, Reuters)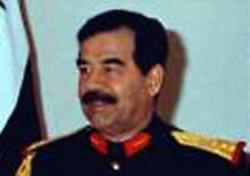 For a timeline of former Iraqi President Saddam Hussein's life from his rise within the ranks of the Ba'ath Party and the Revolution Command Council to his regime's ruthless persecution of perceived enemies at home and abroad, click here.