Azerbaijani Religious Freedom Campaigner Arrested In Georgia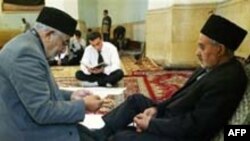 View inside a Baku mosque (file photo) (AFP) April 6, 2006 -- Reports from Tbilisi and Baku say Georgian security forces have arrested an Azerbaijani religious-freedom campaigner.
Azer Ramizoglu, who heads the Baku-based Caucasus Center for the Protection of Conscience and Religion (QDEVAMM), was reportedly detained in Tbilisi on March 31 on an Azerbaijani arrest warrant. Rights campaigners in Baku said on April 6 that Ramizoglu is wanted for his alleged participation in the street unrest that followed President Ilham Aliyev's disputed election in October 2003.
Addressing reporters in Tbilisi today, a QDEVAMM activist, Ilham Huseynoglu, said Ramizoglu has written Georgian President Mikheil Saakashvili a letter in which he asks to be granted political asylum.
(Turan, Novosti-Gruziya)