Bush Pressed To Explain Classified Intelligence Leak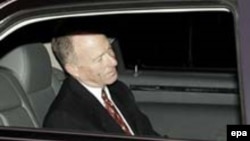 Lewis Libby (pictured), the former chief of staff for Vice President Dick Cheney, gave sworn testimony that President Bush authorized him to leak classified information to reporters (file photo) (epa) April 7, 2006 -- Opposition Democrats in the United States are calling for an explanation from President George W. Bush following disclosures that Bush may have authorized the leaking of classified intelligence to counter criticism of his Iraq war policy in 2003.
Court papers
made public yesterday
cited former vice presidential aide Lewis Libby as testifying to a federal grand jury that Vice President Dick Cheney had told Libby that Bush had authorized him to disclose secret intelligence information to a "New York Times" reporter.
The court document does not indicate that Bush or Cheney told Libby to reveal the name of a covert CIA operative. The leak of this name is being investigated by a special prosecutor.
Democratic Senator Charles Schumer of New York called on Bush and Cheney to explain their roles in any leaks of classified information.
"At the very least, President Bush and Vice President Cheney should fully inform the American people of any role they played in allowing classified information to be leaked," he said. "Did they believe they have the right to do this and if so, in what circumstances? Or is this just something that may have been done to accommodate the president's momentary political needs?"
Bush has previously denounced leaks by government officials and has vowed to punish administration officials who released information to the public without authorization.
(compiled from agency reports)

SUBSCRIBE For weekly news and analysis on Iraq by e-mail,
subscribe to "RFE/RL Iraq Report."