It was the latest in a series of sectarian blasts, following the destruction of a Shi'ite shrine in Samarra in February.
The incident followed a warning by the Iraqi Interior Ministry to avoid mosques and markets, saying it had received information that insurgents were planning attacks.
It wasn't clear who was behind the blasts.
Earlier today, radical Shi'ite cleric Muqtada al-Sadr blamed U.S. and Iraqi government forces for a car bombing in Najaf yesterday that killed 10 people.
(compiled from agency reports)
Sectarian Iraq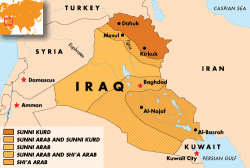 Click to enlarge the image.
SUNNI, SHI'A: Iraq is riven along sectarian lines, faults that frequently produce violent clashes and are a constant source of tension. Sectarian concerns drive much of Iraqi politics and are the main threat to the country's fragile security environment.


THE COMPLETE PICTURE: Click on the image to view RFE/RL's complete coverage of events in Iraq and that country's ongoing transition.