Azerbaijani 'Gangsters' Gunned Down In Moscow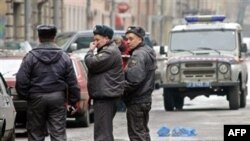 Russian police at the site of a murder (file photo) (AFP) April 8, 2006 -- Azerbaijani media have identified the two Azerbaijanis gunned down in the Russian capital, Moscow, on April 7 as a criminal boss and his bodyguard.
They quote unidentified police officials as saying Hikmet Muxtarov and Bayram Talibov were likely killed by a rival criminal gang.
A spokesman for the Moscow prosecutor's office, Sergei Marchenko, earlier said the two men were gunned down as they were getting into their car.
(Turan, day.az)