The ban is a response to what Brussels says were Belarus's rigged presidential elections on March 19 and a subsequent crackdown on opposition activists.
Lukashenka won a third term, claiming 82.6 percent of the vote. His nearest rival, opposition candidate Alyaksandr Milinkevich, took just 6 percent.
The ban prohibits Lukashenka and the 30 other officials from traveling to any of the 25 EU states.
In a statement, the EU foreign ministers said the banned officials were "responsible for the violations of international electoral standards and international human rights law" for their crackdown on opposition activists.
The EU has suggested that further sanctions -- such as freezing the Belarusian leadership's assets in the EU -- remain possible.
Belarus has dismissed the ban as "ineffective" and "short-sighted."
(with agency reports)
Minsk, March 25
THE AUTHORITIES GET TOUGH: RFE/RL's Belarus Service filed these images from the police action against the March 25 demonstration in Minsk. Photographs by Maks Kapran.
LISTEN
Listen to the sounds of the demonstration:
Real Audio Windows Media
Real Audio Windows Media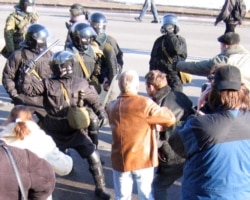 (RFE/RL)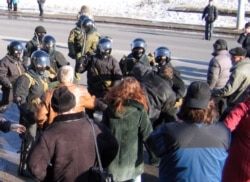 (RFE/RL)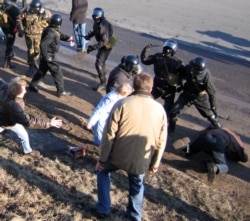 (RFE/RL)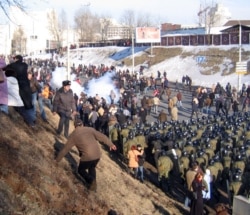 (RFE/RL)

THE COMPLETE PICTURE:
Click on the image to view a dedicated page with news, analysis, and background information about the Belarusian presidential ballot.


COVERAGE IN BELARUSIAN: Click on the image to view RFE/RL's coverage of the election campaign in Belarusian and to listen to RFE/RL's Belarusian Service.