El-Baradei In Tehran For Uranium Enrichment Talks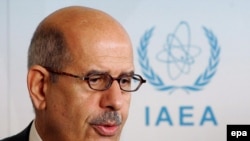 Mohammad el-Baradei, the head of the International Atomic Energy Agency (file photo) (epa) April 13, 2006 -- Mohammad el-Baradei, the chief of the United Nations' nuclear watchdog, is expected to hold talks today with Iranian officials in Tehran on international demands that Iran halt uranium enrichment activities.
El-Baradei said after arriving in the Iranian capital that he believes the time is right for a return to negotiations to reach a political solution between Iran and the international community.
He said he would ask "Iran to take confidence-building measures for a period of time, including suspension of
enrichment and reprocessing relating activities."
El-Baradei arrived in Tehran after world powers on April 12 condemned Iran's announcement that it had successfully enriched uranium.
But Iranian President Mahmud Ahmadinejad rejected calls to halt uranium enrichment, declaring that Iran is now "a nuclear state."
(AFP, Reuters)


THE COMPLETE PICTURE: RFE/RL's complete coverage of controversy surrounding Iran's nuclear program.
CHRONOLOGY
An
annotated timeline
of Iran's nuclear program.