Uzbek Court Cuts Sentence Of Jailed Opposition Leader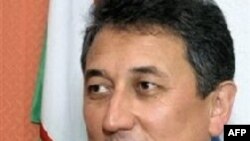 Sanjar Umarov (file photo) (AFP) PRAGUE, April 13, 2006 (RFE/RL) -- An Uzbek court has, on appeal, reduced the prison sentence for Sanjar Umarov, the jailed leader of the Sunshine Uzbekistan opposition movement.
Instead of 10 1/2 years, Umarov must now serve seven years and eight months.
A member of the international watchdog Human Rights Watch who attended the trial in Tashkent, Andrea Berg, told RFE/RL's Uzbek Service that she is very concerned about Umarov's health. She described his behavior as distant and "very strange."
Rights activists had previously voiced concern that he may have been injected with psychotropic drugs.
Umarov was convicted of belonging to a criminal group and for economic crimes.
Umarov's supporters say he was jailed for political reasons. Sunshine Uzbekistan had criticized the crackdown by the Uzbek government in the eastern city of Andijon in May 2005, which officially left 187 people dead.
An Uzbek court recently jailed another Sunshine Uzbekistan member, Nodira Hidoyatova, to 10 years after finding her guilty of membership of a criminal group and of committing economic crimes.
Hidoyatova acted as a coordinator for Sunshine Uzbekistan.



A dedicated webpage bringing together all of RFE/RL's coverage of the events in Andijon, Uzbekistan, in May 2005 and their continuing repercussions.
CHRONOLOGY
An
annotated timeline
of the Andijon events and their repercussions.