Uzbek Prosecutor Demands 18 Years For Opposition Leader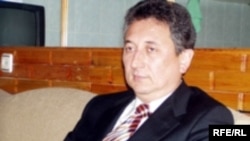 Sanjar Umarov (file photo) (RFE/RL) TASHKENT, 24 February 2006 (RFE/RL) -- An Uzbek prosecutor is demanding an 18-year prison term for an opposition leader standing trial on charges of tax evasion and other economic crimes.
Sanjar Umarov, the chairman of the Sunshine Coalition, has pleaded innocent to all charges. The political grouping has been a vocal critic of the government's bloody crackdown on protesters in the eastern city of Andijon in May 2005.
Umarov's lawyer, Vitaly Krasilovsky, dismissed the charges, telling RFE/RL's Uzbek Service that the prosecutor "has no proof of the many crimes that Sanjar Umarov is charged with."
Uzbek prosecutors last week also demanded a 12-year prison sentence for Nodira Hidoyatova, another Sunshine activist. Her sister, Nigora, described the proceedings to the French news agency AFP as a "show trial."


A dedicated webpage bringing together all of RFE/RL's coverage of the events in Andijon, Uzbekistan, in May 2005 and their continuing repercussions.
CHRONOLOGY
An
annotated timeline
of the Andijon events and their repercussions.