Round-The-World Walker To Appeal Russian Deportation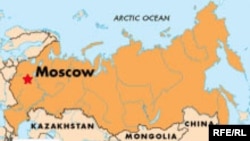 (RFE/RL) April 15, 2006 -- British traveler Karl Bushby and American Dimitri Kieffer plan to appeal a Chukotka court ruling to expel them after they were stopped in Russia's Far East.
Bushby planned to walk around the world but he and Kieffer, who was accompanying him on this leg of the journey, were detained on April 1 when they entered Russia from Alaska across the Bering Strait.
A court in the Far Eastern region of Chukotka ordered the two to be deported from the country and to pay a 2,000 ruble fine (about $70).
The decision would also mean the two would be banned from visiting Russia for five years.
(TASS)