UNHCR Leaves Uzbekistan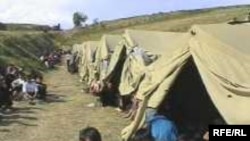 Uzbek refugees pictured in a camp in Kyrgyzstan shortly after the crackdown in Andijon in May 2005 (file photo) (RFE/RL) April 18, 2006 -- The UN High Commissioner for Refugees (UNHCR) says it has withdrawn its employees and closed its office in Uzbekistan.
The UNHCR's spokesperson, Jennifer Pagonis, says the decision is at the request of Uzbek authorities.
The UNHCR announced on March 20 that Tashkent had given it one month to leave, saying the agency had fulfilled its tasks and there was no need for its continued presence.
Uzbek authorities have accused the UN body of protecting criminals and terrorists. The UNHCR has been involved in assisting Uzbek refugees who fled the country after the government crackdown on protesters in Andijon in May 2005. In July, more than 400 Uzbeks were given asylum in Europe, despite protests from Tashkent.
The agency's Tashkent office says it was involved principally in helping Afghan refugees in Uzbekistan.
(AP)



A dedicated webpage bringing together all of RFE/RL's coverage of the events in Andijon, Uzbekistan, in May 2005 and their continuing repercussions.
CHRONOLOGY
An
annotated timeline
of the Andijon events and their repercussions.