U.S. Condemns Uzbek Decision To Eject UNHCR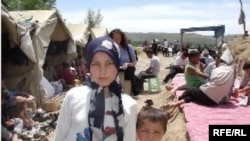 The UNHCR helped a number of Uzbeks fleeing the violence in Andijon get asylum in other countries (RFE/RL) March 22, 2006 -- The U.S. State Department has condemned the Uzbek government's decision to shut down the UN High Commissioner for Refugees' (UNHCR) operations in Uzbekistan.
In a statement on March 22, the State Department urged Uzbek authorities to reverse the decision.
The Uzbek Foreign Ministry on March 17 told the UNHCR that it is no longer needed in Uzbekistan and should close its office in Tashkent "within a month."
The UNHCR helped Uzbek refugees win asylum abroad following a military crackdown in the eastern Uzbek city of Andijon in May 2005. The Uzbek government accuses the UNHCR of protecting criminals by opposing Tashkent's demands on neighboring countries to return Uzbek refugees.
(ITAR-TASS, AFP, AP)


A dedicated webpage bringing together all of RFE/RL's coverage of the events in Andijon, Uzbekistan, in May 2005 and their continuing repercussions.
CHRONOLOGY
An
annotated timeline
of the Andijon events and their repercussions.