Uzbekistan Gives UNHCR One Month To Leave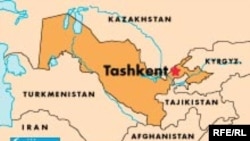 (RFE/RL) PRAGUE, March 20, 2006 (RFE/RL) -- The United Nations High Commissioner for Refugees (UNHCR) says the Uzbek government has given it one month to end its presence in the country, RFE/RL's Uzbek Service reported.
UNHCR spokeswoman Astrid Van Genderen Stort told RFE/RL's Uzbek Service today that a March 17 Uzbek Foreign Ministry communique informed the agency of the decision.

Van Genderen Stort quoted the communique as saying that the agency has "fully implemented its tasks" and that there are "no evident reasons for its further presence in Uzbekistan." The ministry also requested UNHCR to close its office in Tashkent "within one month."

The agency says it will seek to make "alternative arrangements" to meet the needs of some 2,000 mainly Afghan refugees and asylum seekers in Uzbekistan.

The UNHCR has helped several hundred Uzbeks to win asylum abroad following a government crackdown in the eastern Uzbek city of Andijon in May 2005.

The refugee agency opened its office in Uzbekistan in 1993 to support its operations during the 1992-93 civil war in Tajikistan and in northern Afghanistan.