Stalin Memorial To Be Restored In Russia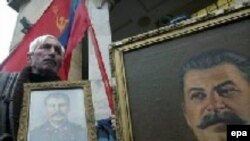 A Georgian supporter of Stalin celebrates the dictator's anniversary in his birthplace, Gori (file photo) (epa) April 19, 2006 -- A memorial to former Soviet leader Josef Stalin -- including a life-size statue -- is to be restored in Russia's Krasnoyarsk region.
The memorial was closed in 1961 and in 1995 was almost entirely destroyed in a fire.
An aide to the regional governor says the decision was made at the urging of travel agencies, who believe the memorial will attract tourists.
(Interfax, gazeta.ru)

World War II: 60 Years On
A microsite devoted to RFE/RL's coverage of the 60th anniversary of the end of World War II in May 2005.
See also:
60 Years Later, Nagasaki Bomb Witness Is Finally Heard
For One Hiroshima Survivor, A Journey From Hate To Reconciliation