Refugee Numbers Drop To Lowest Level In 25 Years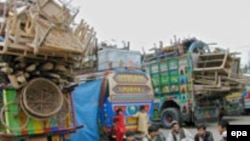 Afghan refugees packed up and ready to leave Peshawar, Pakistan, for Afghanistan, March 2006 (epa) PRAGUE, April 19, 2006 (RFE/RL) -- The United Nations' refugee agency says the number of refugees worldwide has dropped to its lowest level in almost a quarter of a century.
In a report released on April 19, the UN High Commissioner for Refugees (UNHCR) says there were just over nine million refugees at the beginning of 2004, down from nearly 18 million in the early 1990s.
The UNHCR says the end of a numbe rof wars in recent years had allowed many refugees to return home.
However, the agency also says there is growing "asylum fatigue" in many parts of the world.
It says that this, coupled with stricter asylum policies in many countries, endangers the protections extended to asylum seekers and refugees.