Karzai Blames Foreigners For Violence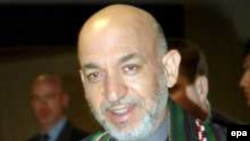 President Karzai (file photo) (epa) April 22, 2006 -- Afghan President Hamid Karzai says foreigners are to blame for the country's continuing violence.
Karzai, on a visit today to the far western Badghis Province, said foreigners were providing funding and weapons for insurgents.
He said Afghans could not be responsible for the rise in bombings and shooting in recent months. In one of the latest incidents, two bombs badly damaged the home of a politician in the northern province of Balkh today, but caused no casualties.
(Reuters, AP)