PRAGUE, April 25, 2006 -- U.S. State Department Deputy Spokesman Adam Ereli declined to elaborate on Aliyev's April 28 scheduled meeting with Bush.
As to the talks Secretary of State Condoleezza Rice will have with the Azerbaijani leader, Ereli suggested on April 24 that they would not go beyond Washington's traditional demands on Baku.
"There are a number of significant interests in our relationship with Azerbaijan -- human rights, most definitely; democratic development, most definitely; energy security; stability in the region; the fight against terror," Ereli said.
High-Profile Visit
Yet rarely has a foreign visit by an Azerbaijani leader attracted so much interest before it actually takes place.
Initial reports suggested Aliyev and his U.S. interlocutors would concentrate on ways to revive the Nagorno-Karabakh peace process in the wake of the Azerbaijani-Armenian summit that took place in February 10-11 near Paris.
The talks Aliyev had in Rambouillet with his Armenian counterpart Robert Kocharian disappointed the international community.
Still, international mediators of the Organization for Security and Cooperation in Europe (OSCE) insist they have not abandoned hope of bringing the two sides closer to a peace agreement in the course of 2006. Also, there has been much diplomatic activity recently around Karabakh.
Earlier this month, Azerbaijani Foreign Minister Elmar Mammadyarov mentioned the existence of what he described as "new" U.S. proposals to settle the Karabakh conflict.
Still, Karabakh expert Thomas de Waal, who is Caucasus editor at the London-based Institute for War and Peace Reporting, tells RFE/RL's Azerbaijani Service he does not expect Aliyev's U.S. visit will bring any breakthrough: "[The Karabakh issue] will come up, but I don't think President Bush has anything new, or original, to say. So I think he will say a few words about how 'we very much want to see a peace process and we will encourage you and spend money on it.' But I think most of the discussions will probably be about Iran."
Nuclear Talks Possible
There has been widespread speculation in recent days that Iran's nuclear standoff with the West could overshadow the Karabakh issue during Aliyev's visit. Comments Iran's Defense Minister Mostafa Mohammad-Najjar made last week in Baku certainly did not help downplay those speculations.
"Our argument against the U.S. and other [Western countries] is clear and our Azerbaijani friends will certainly convey our arguments to them. We believe President Aliyev will convey our arguments to [the Americans] during his visit and it is possible that those arguments will convince them to change their stance. This being said, it doesn't mean that [Azerbaijan] will mediate [in the dispute]. Still they can explain our position to [the Americans]," Mohammad-Najjar said.
Upon his departure from the Azerbaijani capital, Mohammad-Najjar praised the privileged ties he claimed existed between Tehran and Baku. Although relations between the two neighbors have been notoriously lukewarm ever since Azerbaijan became independent again in 1991, the Iranian defense minister on Friday (April 21) described Baku as Tehran's "best regional ally."
The United States has not commented on Mohammad-Najjar's remarks.
Azerbaijani political observers have long been debating whether Washington may ask Baku to join an anti-Iran coalition in case it decides to resort to force against Tehran. One part of the Azerbaijani political elite believes that, should Washington make such a request, it would be in Baku's best interests to comply. Another part believes Azerbaijan should remain neutral in the U.S.-Iran dispute.
This is the opinion of Zahid Orucov, a pro-government member of the Azerbaijani parliament's defense and security committee. The Baku-based "Ekho" newspaper today quoted him as saying the risks Azerbaijan would face should it side with the United States against Tehran would be too high compared to the gains it could expect from such an alliance.
Orucov tells our correspondent he does not believe there is much to Mohammad-Najjar's recent claims that Aliyev may convey Tehran's concerns to Washington.
"Some political forces in Iran are very concerned about the current situation surrounding [Tehran's] nuclear dispute. The Iranian side is making provocative [statements] so that [Azerbaijan] becomes involved. Despite statements and comments made by Iranian officials who say the U.S. has been threatening [their country] for [27] years now and that they're not afraid of those threats, they're taking preventive steps," Orucov said. "That's why we can openly say Iran is making efforts in two directions: first, it is actively preparing for [a possible U.S.] military aggression; second it is using all possible political means to bide its time."
Orucov believes the sole prospect of Azerbaijan discussing Iran with the United States is causing much concern in Tehran.
But for others, this is not even an issue.
Azerbaijan's "Zerkalo" Russian-language daily today quotes a Musavat opposition party leader, Hikmet Hacizade, as saying that, whatever its final decision on joining a possible anti-Iranian coalition, Azerbaijan is seen in Tehran as a regional ally of the United States -- and therefore is already an interested party in the dispute.
(RFE/RL's Azerbaijani Service correspondent Kenan Aliyev contributed to this report)
The Nagorno-Karabakh Conflict
The Nagorno-Karabakh Conflict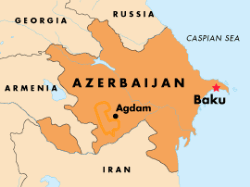 Click on the image to view an enlarged map of the Nagorno-Karabakh conflict zone

In February 1988, the local assembly in Stepanakert, the local capital of the Azerbaijani region of NAGORNO-KARABAKH, passed a resolution calling for unification of the predominantly ethnic-Armenian region with Armenia. There were reports of violence against local Azeris, followed by attacks against Armenians in the Azerbaijani city of Sumgait. In 1991-92, Azerbaijani forces launched an offensive against separatist forces in Nagorno-Karabakh, but the Armenians counterattacked and by 1993-94 had seized almost all of the region, as well as vast areas around it. About 600,000 Azeris were displaced and as many as 25,000 people were killed before a Russian-brokered cease-fire was imposed in May 1994.
CHRONOLOGY: For an annotated timeline of the fighting around Nagorno-Karabakh in 1988-94 and the long search for a permanent settlement to the conflict, click here.

Click on the icon to view images of the Nagorno-Karabakh conflict (Flash required)
To view an archive of all of RFE/RL's coverage of Nagorno-Karabakh,
click here.