PRAGUE, April 19, 2006 (RFE/RL) -- There has been little information about Mohammad-Najjar's visit.
Iran's state news agency, IRNA, on April 18 reported that Mohammad-Najjar, who is leading a high-ranking military delegation, is expected to hold talks with Azerbaijani military and civilian officials and tour army facilities.
Reports that the Iranian envoy will meet with Azerbaijani President Ilham Aliyev could not be immediately confirmed.
Information from Baku is even scarcer, with local media saying that only a meeting between Mohammad-Najjar and Safar Abiyev, his Azerbaijani counterpart, is on the agenda.
Problematic Relations
Relations have traditionally been cold between Baku and Tehran -- a fact that perhaps makes the duration of Mohammad-Najjar's visit surprising.
Iran suspects Azerbaijan of spreading separatist ideas among the predominantly Azeri population of its northwestern provinces. Azerbaijan, in turn, alleges that its southern neighbor is working behind the scenes to undermine its secular statehood by funding radical Islamic groupings and smuggling religious missionaries across the border. The two countries are also at odds over the demarcation of their common Caspian Sea border.
Given this context, Azerbaijani political expert Rasim Musabeyov is doubtful that much will come from this week's meetings: "I believe [bilateral defense ties] are at their lowest possible level. In fact, I don't think this military cooperation goes beyond exchanges of delegations and, say, [ordinary] talks."
Diplomatic Moves
Mohammad-Najjar's visit comes amid a flurry of regional diplomatic activity possibly connected to Iran.
Turkish President Ahmet Necdet Sezer was in Baku earlier this month. Azerbaijani President Aliyev is due in Washington on April 28 on his first visit to the United States since his election in 2003.
Also, Turkish Prime Minister Recep Tayyip Erdogan and Iranian President Mahmud Ahmadinejad are expected in Baku next month.
Azerbaijani media have been speculating that the administration of U.S. President George W. Bush may turn to Azerbaijan for help in case international negotiations fail to resolve Iran's nuclear standoff with the West.
Anti-Iran Coalition
On March 31, Azerbaijan's "Ayna" daily quoted unidentified U.S. officials as saying that Aliyev's government has given its preliminary consent to joining an anti-Iran coalition.
Azerbaijan's Deputy Foreign Minister Araz Azimov, who held security talks in the United States last month, has denied the "Ayna" report. Addressing an April 6 news briefing, he said Baku has received no specific U.S. request with regard to Iran. However, he hinted that Iran's nuclear standoff was discussed at large during his visit to Washington.
There has been speculation in Baku that the meetings Aliyev will have in the United States later this month may not only focus on the Nagorno-Karabakh issue, but also on Iran.
Addressing reporters in Baku today, Azerbaijan's presidential aide Novruz Mammadov remained vague enough to keep those speculations alive: "The president of Azerbaijan will meet nearly all U.S. government leaders. He will discuss bilateral relations, the fight against terrorism, regional security issues, energy cooperation, and problems pertaining to democratic developments. I believe that during his visit he will make specific statements on a number of issues, including the strategic cooperation between the U.S. and Azerbaijan, energy links, and problems related to democratic developments. Those statements could be made either orally, or in a written form."
Public Debate
Media reports that Azerbaijan could join an anti-Iran coalition have triggered public debate in the country. One part of the political elite believes Baku should align itself with Washington, while another part categorically rejects such an eventuality.
Political expert says he does not believe Baku will join a U.S.-led military coalition against Iran. Yet, he thinks the subject will likely be on the agenda of Mohammad-Najjar's talks.
"Given the situation Iran is in at the moment, its defense minister has certainly no time to waste on purely formal visits. Since he is coming to Baku and will remain there quite a long time, it means that very important questions will be on his agenda," Musabeyov said. "He may tell [his interlocutors] what Iran believes would be unacceptable and what possible risks await Azerbaijan. I think this is what he is going to discuss with Azerbaijan's military officials and, [possibly], with the head of state."
According to Musabeyov, Azerbaijan should be prepared for all possible eventualities -- whether or not it decides to take part in an anti-Iran coalition: "Even if [an anti-Iran military coalition] is set up without Azerbaijan participating in it, that does not mean that it will be immune to any possible risks. Anything can happen and this is why Azerbaijan is interested in examining all aspects of [Iran's nuclear issue], including its possible military risks."
Meanwhile, some Azerbaijani politicians have speculated that the regions of Qubadli, Zangilan, and Cabrayil may become the focus of attention in the event of U.S. military operations against Tehran.
Those three Azerbaijani administrative districts, which border Iran to the northwest, have been under Armenian occupation since 1993. In comments made to Azerbaijan's Day.Az news agency on April 18, Umid party leader Iqbal Agazade said that, in case of a U.S.-led war against Iran, Azerbaijan should first secure the return of those territories "for the sake of its own security."
Security Guarantees For Iran?
Security Guarantees For Iran?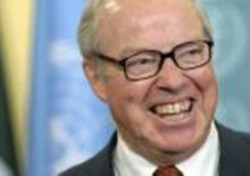 Hans Blix (CTK)

SECURITY GUARANTEES On January 26, RFE/RL Radio Farda correspondent Fatemeh Aman spoke with former UN chief weapons inspector HANS BLIX about the confrontation between Iran and the international community over Tehran's nuclear ambitions. Blix urged the United States to participate in direct negotiations with Tehran and to offer Iran security guarantees that are similar to those being discussed with North Korea...(more)
LISTEN
Listen to the complete interview (about five minutes):

Real Audio
Windows Media

THE COMPLETE STORY: RFE/RL's complete coverage of controversy surrounding Iran's nuclear program.