Croatian Veterans Start 'Pilgrimage' To See Gotovina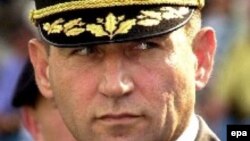 Ante Gotovina pictured in 2000 (epa) April 25, 2006 -- A group of Croatian war veterans has begun a 1,700-kilometer walk to visit Croatia's top war crimes suspect, Ante Gotovina, at the United Nations tribunal in The Hague.
The 12 veterans set off in Pakostane, Gotovina's native village, and hope to arrive in the Netherlands in June.
Gotovina, a former general, is seen as a hero by many Croatians despite the war crimes charges against him.
(AFP)