Turkey Asks U.S. For Help With Kurdish Rebels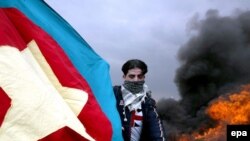 A Turkish Kurd holds a Kurdistan Workers Party (PKK) flag at a demonstration in Istanbul on March 19 (epa) April 25, 2006 -- Turkey's Foreign Minister has called on the United States to increase its support for Turkey's efforts against Kurdish guerrillas.
Abdullah Gul made the remarks during talks in Ankara today with U.S. Secretary of State Condoleezza Rice.
Rice said the United States would continue to support Turkey in containing rebels of the outlawed Kurdish Workers' Party (PKK), which both nations consider a terrorist organization.
But she encouraged Turkey not to take any unilateral action, and to cooperate with Iraq and the U.S.-led coalition in Iraq in implementing security measures.
Turkey is reported to be building up its forces in the areas near Iraq to intensify operations against Kurdish fighters based across the border.
(dpa, AP, AFP)