U.S./Azerbaijan: Presidents Discuss Energy, Iran, Democratic Reform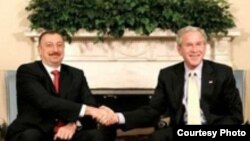 Presidents Aliyev (left) and Bush in White House on April 28 (Courtesy Photo) WASHINGTON, April 28, 2006 (RFE/RL) -- After meeting at the White House on April 28, U.S. President George W. Bush and his Azerbaijani counterpart Ilham Aliyev said they discussed a wide range of issues, including energy security, Iran's nuclear program, and democratic reform in Azerbaijan.
Bush praised Aliyev's efforts to ensure a secure flow of energy from the Caspian region, and Aliyev thanked Bush for his help.
"We are very grateful for the leadership of the United States in the promotion of energy-security issues in the region, in assisting us to create a solid transportation infrastructure, which will allow [us] to develop full-scale Caspian oil and gas reserves and to deliver them to the international markets," Aliyev said.
Peaceful Solution Of Iran Issue
Aliyev and Bush said they also discussed the dispute over Iran's nuclear program. The meeting coincided with the release of a report by the UN's International Atomic Energy Agency accusing Iran of defying the UN Security Council's calls to halt its uranium-enrichment program.
Bush has often said he intends to resolve the issue without the use of force, but he stresses that all his options are open, including the use of military force. Today, Bush repeated his desire for a peaceful solution.
"We obviously talked about Iran," he said. "I assured the president of my desire to solve this problem diplomatically and peacefully."
Bush didn't mention the military option. On April 26 in Washington, Aliyev said that if the United States decides an attack is necessary, it would have to carry it out without Azerbaijan's help, because Azerbaijan and Iran, which share a nearly 300-kilometer border, have a nonaggression treaty.
But Aliyev said on April 26 and 28 that Azerbaijan remains a strategic partner with the United States, and a strong ally of Washington in Iraq and in the fight against terrorism.
After today's meeting, Aliyev said: "We are allies in the war on terror. We have been from the very first day shoulder to shoulder with the United States in peacekeeping operations in various parts of the world, and we'll continue to contribute to the creation of peace and stability in the region."
Bush also praised Azerbaijan as a Muslim nation that is becoming increasingly comfortable with democracy. "We talked about the need for the world to see a modern Muslim country that is able to provide for its citizens, that understands that democracy is the wave of the future," he said.
Nagorno-Karabakh Deadlock
Aliyev and Bush also discussed Azerbaijan's continuing dispute with neighboring Armenia over the ethnic Armenian enclave of Nagorno-Karabakh in Azerbaijan, and Armenia's occupation of a large part of Azerbaijan after the war the two countries fought in 1992.
Bush and Aliyev said little about their discussions on these matters. The Azerbaijani leader said only that he had informed Bush of "the latest status of the negotiations [on Nagorno-Karabakh] and expressed my hope that a peaceful settlement of the conflict will happen and will serve the peace and stability in the whole region."
Talks on Nagorno-Karabakh have been in progress for more than a decade under the mediation of the so-called Minsk Group of nations comprising France, Russia, and the United States.
The Nagorno-Karabakh Conflict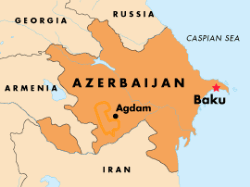 Click on the image to view an enlarged map of the Nagorno-Karabakh conflict zone

In February 1988, the local assembly in Stepanakert, the local capital of the Azerbaijani region of NAGORNO-KARABAKH, passed a resolution calling for unification of the predominantly ethnic-Armenian region with Armenia. There were reports of violence against local Azeris, followed by attacks against Armenians in the Azerbaijani city of Sumgait. In 1991-92, Azerbaijani forces launched an offensive against separatist forces in Nagorno-Karabakh, but the Armenians counterattacked and by 1993-94 had seized almost all of the region, as well as vast areas around it. About 600,000 Azeris were displaced and as many as 25,000 people were killed before a Russian-brokered cease-fire was imposed in May 1994.
CHRONOLOGY: For an annotated timeline of the fighting around Nagorno-Karabakh in 1988-94 and the long search for a permanent settlement to the conflict, click here.

Click on the icon to view images of the Nagorno-Karabakh conflict (Flash required)
To view an archive of all of RFE/RL's coverage of Nagorno-Karabakh,
click here.