British Adventurer Freed To Walk Across Russia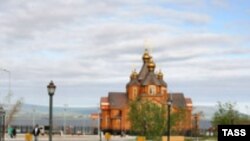 Anadyr, capital of Chukotka and enforced home of Karl Bushby and Dmitry Keiffer for the past month (file photo) (ITAR-TASS) Russia, May 5, 2006 -- A British is free to continue his bid to walk around the world today after a Russian appeals court canceled an expulsion order against him.
Karl Bushby and his companion on this stage of his journey, U.S. citizen Dmitry Keiffer, were detained without visas on April 1 after walking across the ice-bound Bering Straits from Alaska.
The court, in the Chukotka region of Siberia, said Bushby and Keiffer had not entered Russia with ill-intent, as a lower court had ruled.
(AFP)