Australia To Send More Troops To Afghanistan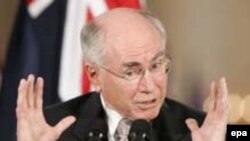 Prime Minister John Howard (file photo) (epa) May 8, 2006 -- Prime Minister John Howard has said Australia would send 240 more troops to Afghanistan in July to support a Dutch-led reconstruction effort in the country.
Howard said today the deployment was a further reminder of Australia's commitment to securing a stable and democratic future for Afghanistan.
"The situation in Afghanistan requires a continued strong coalition presence like all operations in that country," Howard said. "There is danger. The situation in Afghanistan still remains in a number of parts of the country quite fraught and it's important that any commitment we make be understood in that context."
Australia already has some 300 troops in Afghanistan, including 190 special-forces soldiers.
Meanwhile, Defense Minister Brendan Nelson said Australia will keep troops currently guarding Japanese engineers in Iraq even if Tokyo's commitment ends.
Nelson said the Australian contingent of 470 troops deployed in the southern Al-Muthanna Province would be used to train local security forces if the Japanese left.
Speculation has been rife that Japan may start withdrawing its soldiers this year.
(Reuters, AP, AFP)

SUBSCRIBE For weekly news and analysis on Iraq by e-mail,
subscribe to "RFE/RL Iraq Report."