Afghan Leader Urged To Keep Warlords Out Of Police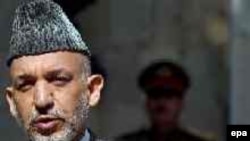 Hamid Karzai (file photo) (epa) PRAGUE, May 4, 2006 (RFE/RL) -- Human Rights Watch today urged Afghan President Hamid Karzai not to appoint known human rights abusers and warlords as provincial police chiefs.
Karzai is expected to appoint police chiefs for each of Afghanistan's 34 provinces during the coming days.
Brad Adams, the Asia director for Human Rights Watch, told RFE/RL today that there are indications Karzai may be trying to negotiate with some of the country's strongest warlords about the police posts.
"President Karzai has a choice right now whether to appoint professional police officers as police chiefs to help rebuild the rule of law in the country or to appoint people with bad human rights records who either are warlords or are the subordinates of warlords," Adams said.
Attempts by RFE/RL and Radio Free Afghanistan today to contact Karzai's office for an immediate reaction to the Human Rights Watch statement have been unsuccessful.
RFE/RL Afghanistan Report

SUBSCRIBE For regular news and analysis on Afghanistan by e-mail,
subscribe to "RFE/RL Afghanistan Report."