Poland Chooses First Female Foreign Minister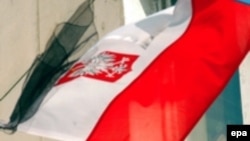 (epa) May 9, 2006 -- A Polish government spokesman says former Solidarity trade union activist Anna Fotyga will be appointed Poland's new foreign minister.
She will replace Stefan Meller, who quit as foreign minister last month after Poland's ruling conservative Law and Justice Party struck a coalition deal with the populist Samoobrona (Self-Defense) party led by Andrzej Lepper.
Fotyga will be Poland's first woman foreign minister.
(AFP)