Bosnian War Crimes Court Puts 11 On Trial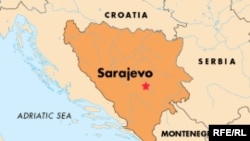 (RFE/RL) May 9, 2006 -- Bosnia's war crimes court today opened the trial of 11 Bosnian Serbs facing war crimes charges.
The accused are charged with genocide against Bosnian Muslims in the village of Kravica in the Srebrenica enclave, where Serbian troops killed some 8,000 Muslim men and boys in July 1995.
It's the first war crimes trial regarding the Srebrenica massacre to be tried in Bosnia.
(AFP, dpa)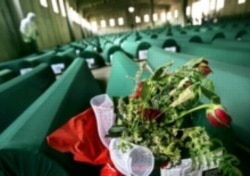 Coffins of Srebrenica victims being prepared for burial in October (AFP)

THE WORST ATROCITY IN EUROPE SINCE WORLD WAR II: The July 1995 massacre of some 7,000 Muslim men and boys by Bosnian Serb fighters near the UN-designated safe haven of Srebrenica is the worst atrocity of its kind in Europe since the end of World War II. Since the incident, the name Srebrenica has become practically synonomous with ethnic cleansing....(more)
See also:
Coming To Grips With The UN's Failure At Srebrenica
Child Of Srebrenica Returns Home For Anniversary Of Massacre