U.S. Supports EU's Suspension Of Talks With Serbia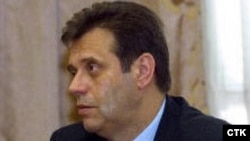 Prime Minister Vojislav Kostunica said the search for Mladic is continuing (file photo) (CTK) May 3, 2006 (RFE/RL) -- The United States today said today it supports the European Union's efforts to press Serbia and Montenegro to find and surrender fugitive Bosnian Serb Ratko Mladic to the International Criminal Tribunal for the former Yugoslavia.
The EU earlier today suspended accession talks with Serbia and Montenegro after Belgrade missed a second deadline to deliver Mladic to the tribunal in The Hague to face war crimes charges.
At the State Department in Washington, spokesman Sean McCormack backed the EU decision. He said full Euro-Atlantic integration will not be possible for Serbia and Montenegro until it fully cooperates with the tribunal.
Serbian President Vojislav Kostunica said the search for Mladic goes on and he urged the fugitive general to surrender. Kostunica's deputy prime minister, Miroljub Labus, resigned, saying the government had betrayed the country's interest by failing to find Mladic.

SUBSCRIBE
For a regular review of politics, media, and RFE/RL broadcasts in the western Balkans,
subscribe to "RFE/RL Balkan Report."