Talabani said in a written statement on May 10 that "we feel shocked, sad, and angry when we receive almost daily reports of finding unidentified bodies and others who were killed on the basis of their identity."
He called on Iraq's feuding groups -- many of them believed to be militias tied to political parties -- to stop tit-for-tat reprisal killings of Shi'a and Sunnis. The killings have continued daily since the bombing of a Shi'ite shrine in Samarra on February 22.
Talabani said the reprisals, along with insurgent attacks and crime, killed at least 1,091 Iraqis in Baghdad alone last month. And he noted that that figure from the Baghdad morgue is likely a low estimate. Many other people disappear without a trace.
If we [consolidate] the militias and put them in the official forces of the Interior and Defense ministries, this will convey the problem [of the militia's own violent agendas] to these ministries." -- Sunni spokesman

RFE/RL Radio Free Iraq's Baghdad bureau chief Nabil al-Haidari said the militant Shi'ite and Sunni groups are targeting not only each others' fighters but, more so, ordinary civilians. Often they seek to clear whole neighborhoods of members of the opposite community.
Al-Haidari described how two residents of one mixed neighborhood recently received death threats from opposing groups: "The day before yesterday, [one] neighbor, a Sunni from Tikrit, received a threat from armed people, four people, who came to him and said to him, 'You have to leave or we will kill you.' [On] the same day, [a] doctor, who is Shi'ite, received an envelope with a letter and a bullet, telling him to leave because he is Shi'ite, or he will be killed."
Political Parties Split Over Solution
So far, it has proved extremely difficult for Iraq's ruling parties to agree on a strategy for ending the violence.
"The Washington Post" reported today that senior Iraqi leaders are preparing to put the country's multiple paramilitary forces under a single command along with the police forces.
But that plan has been rejected by Sunni political groups. "If we [consolidate] the militias and put them in the official forces of the Interior and Defense ministries, this will convey the problem [of the militia's own violent agendas] to these ministries. So we cannot accept this idea," said Baha Aldin Abdul Qadir, a spokesman for the Iraqi Islamic Party, the largest Sunni political bloc.
Sunni parties say that militia members now employed by the Interior Ministry but operating independently within it have carried out numerous abductions and killings of Sunnis.
Abdul Qadir said his party wants militia members instead to be integrated into ministries only in civil capacities or be enrolled in public-works programs. Alternatively, he said, they could be assigned roles as border guards far from urban areas.
Militias' Growing Presence
Meanwhile, the paramilitary forces are becoming increasingly visible in Baghdad. Leaders of some political parties that have been appointed to head ministries have recruited members of their parties' armed wings to serve as guards for their ministries' facilities.
Al-Haidari said that today, there are so many uniformed and nonuniformed guards in Baghdad that no one knows who they all are.
"You have different kinds, and many kinds, of guard forces," Radio Free Iraq's Baghdad bureau chief said. "There is the police, with official cars, and there are army members, with different colored uniforms, and at the same time there are some ministry guard forces, well-armed, and the strangest thing here are the many cars with civilian people, who do not wear uniforms, they are well-armed and they are shouting loudly and sometimes shooting [in the air] for the people to make way for them."
The exact number of ministry-affiliated guards across Iraq is unknown. "The Washington Post" quoted Vice President Adil Abd al-Mahdi today as saying there could be 150,000 such guards nationwide. They are assigned -- at least nominally -- to protecting various parts of Iraq's infrastructure, from oil pipelines to electrical plants.
Reactions To The Samarra Attack
Reactions To The Samarra Attack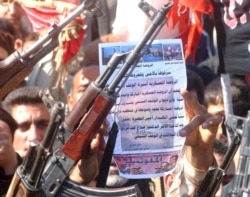 Demonstrators in Baghdad on February 23 (epa)
Iraqi religious and government leaders, as well as international officials, condemned the February 22 bomb attack that wrecked the Golden Mosque, a major Shi'ite Muslim shrine in Samarra. Below is a selection of statements on the incident.

"This new ugly crime comes as a warning that there is a conspiracy against the Iraqi people to spark a war among brothers. God willing, we will not allow this.... We must cooperate and work together against this danger, the danger of civil war. This is the fiercest danger because it threatens our unity and our country with a devastating civil war." -- Iraqi President Jalal Talabani

"The timing of this crime indicates that one of its aims is to stall the political process and to hamper the negotiations on the formation of a national-unity government." -- President Talabani

"I announce on this occasion three days of mourning. I hope our heroic people will take more care on this occasion to bolster Islamic unity and protect Islamic brotherhood and Iraqi national brotherhood." -- Iraqi Prime Minister Ibrahim al-Ja'fari

"Oh honorable people of Samarra! We should stand as one, united in confronting terrorism.... This assault is an assault on all Muslims." -- Iraqi Interior Minister Bayan Jabur

"They will fail to draw the Iraqi people into civil war as they have failed in the past." -- Iraqi National Security Adviser Muwaffaq al-Rubay'i

"If the security systems are unable to secure necessary protection, the believers are able to do so with the might of God." -- Shi'ite spiritual leader Grand Ayatollah Ali al-Sistani

"We will not only condemn and protest but we will act against those militants. If the Iraqi government does not do its job to defend the Iraqi people we are ready to do so." -- Shi'ite cleric Moqtada al-Sadr, speaking through spokesman Abdel Hadi al-Darajee
(compiled by Reuters)

For more reactions, click here and here.



Click the image to view RFE/RL's complete coverage of events in Iraq and that country's ongoing transition.