Minister Calls For Military Integration In Kaliningrad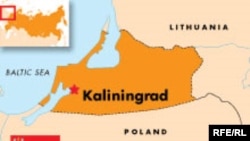 (RFE/RL) May 13, 2006 -- Russian Defense Minister Sergei Ivanov said today the Russian military must develop an integrated group of forces in the Baltic Sea exclave of Kaliningrad.
On a visit to Kaliningrad, Ivanov instructed the Baltic Fleet command to form a mobile group of forces integrating air, naval, and ground components.
Ivanov said the task was in line with President Vladimir Putin's state-of-the-nation speech earlier this week in which he called for bolstering Russian defenses.
Ivanov did not mention any plans to increase the number of troops and weapons in the region. The chief of the general staff of the Russian armed forces said last fall that Moscow wasn't planning a military buildup in the region.
(AP)