UN's Annan Urges Action On Iran, North Korea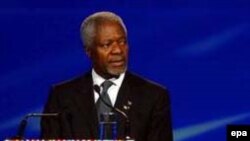 Kofi Annan in Vienna on May 12 (epa) May 15, 2006 -- UN Secretary-General Kofi Annan today called for urgent action to end the standoff over Iran's nuclear activities and an early return to negotiations with North Korea.
Annan said the issues should be solved to prevent nuclear proliferation. "Today, we also have Iran, and the international community has to take very urgent steps to deal with these issues before we have a cascade of proliferation of nuclear weapons," he said.
The UN chief added that he is encouraged by intensified diplomatic efforts to resolve the Iranian crisis peacefully.
Annan made the comments following talks in Seoul with South Korean Foreign minister Ban Ki-moon.
(AFP, Reuters)

THE COMPLETE PICTURE: RFE/RL's complete coverage of controversy surrounding Iran's nuclear program.
CHRONOLOGY
An
annotated timeline
of Iran's nuclear program.