PRAGUE, May 15, 2006 (RFE/RL) -- Afghan Foreign Minister Spanta said today that his country wants a diplomatic solution to the ongoing crisis over Iran's nuclear program.
"We want the tensions between [the U.S. and Iran] to be decreased and disagreements to be resolved in the framework of international laws and also the expectations of the International Atomic Energy Agency (IAEA)," he said. "In this regard we have said that Afghanistan is ready, if it can, to have a role in reducing the tensions."
"They all believe that the main center of terrorism and main terrorist leaders are outside the borders of Afghanistan, in one of the neighboring countries."
A Mediator?
Spanta, however, said that there has been no demand for his country to mediate in the ongoing crisis over Tehran's refusal to halt its uranium-enrichment program.
"We have not been entrusted with mediation, we just wanted to have a role in this regard," Spanta said. "If someone will eventually ask to convey a message from one country to the other, then we would definitely do so."
Iran's Fars news agency recently reported that Afghan President Hamid Karzai is due to travel to Iran next month with a high-level delegation.
Afghan Foreign Minister Spanta today confirmed in his interview with RFE/RL that he will accompany Karzai during his trip to Iran, though he didn't give a date. Spanta said cooperation between Kabul and Tehran in different fields -- including railroad building -- will be discussed.
Mutual Trust
He added, however, that the nuclear issue is not on the agenda for talks with Iranian officials. "[The nuclear crisis] is not directly on our agenda but we hope that this issue will be solved between Iran and Western countries as soon as possible," he said. "Any tension in the region will affect Afghanistan, economic developments, and peace in our country."
Spanta said Afghanistan enjoys very good friendly ties with its Western neighbor, Iran, which are based "on the principle of cooperation and mutual trust."
Regarding ties with Afghanistan's eastern neighbor, Pakistan, Spanta said that he is hopeful that the two countries can overcome "misunderstandings." Spanta did not elaborate but he blamed Pakistan for not doing enough to catch Taliban leaders who, he says, have taken refuge on its territory.
Fighting Al-Qaeda But Not Taliban?
"I'd mainly like [to emphasize] that although Pakistan has arrested several Al-Qaeda leaders, there has not been any significant action to arrest Taliban leaders," he said.
Spanta was quoted on May 13 by a German paper ("Bild am Sonntag") as saying that Al-Qaeda leader Osama bin Laden is living in Pakistan close to the Afghan border, but that Pakistani authorities are only making "half-hearted" efforts to catch him.
The claim was rejected by Pakistani officials as "absurd."
Spanta told RFE/RL that "representatives from the international community" have told him that leaders of terrorist organizations active in Afghanistan are based outside the country.
"Because of comments by representatives of the international community, with whom I have talked in recent days," Spanta said. "They all believe that the main center of terrorism and main terrorist leaders are outside the borders of Afghanistan, in one of the neighboring countries, and they've also said so and I just confirmed the reality they had expressed."
Spanta also said that he has invited his Pakistani counterpart to visit Afghanistan to discuss "issues of mutual interest."
(The interview was conducted by Radio Free Afghanistan correspondent Farishta Jalalzai. RFE/RL correspondent Golnaz Esfandiari contributed to this report.)
What Would Sanctions Mean?
What Would Sanctions Mean?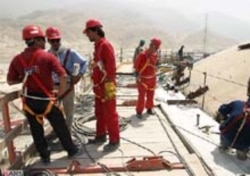 Economic sanctions could further undermine Iran's already shaky economy (Fars)


MOVING TOWARD SANCTIONS: If the United Nations Security Council imposes sanctions on Iran, domestic support for Iranian President Mahmud Ahmadinejad will wane, according to ALEX VATANKA, Eurasia editor for Jane's Information Group.
Vatanka told a February 24 RFE/RL briefing that "economic sanctions will hurt the average Iranian" and, consequently, many "will blame the ruling clerics" for making life difficult and "impairing the country's long term development."
Vatanka said sanctions would be a serious challenge to the Iranian government. If harsh economic sanctions were imposed, Iran's poorest population will be hurt the hardest -- and might react "as they did in the 1970s and protest in the streets." Sanctions on travel, Vatanka said, would hurt a many Iranians because "Iran is a nation of small traders" who depend on the ability to travel to earn an income. According to Vatanka, unemployment in Iran is estimated at 30 percent, "so small trading is essential to survival." Although current U.S. sanctions "haven't worked," he said, "Iranians fear an oil embargo." He stressed that "oil revenues are a major part of the economy, so it is critical to look at this sector."
Should negotiations with the European Union and the UN fail, Vatanka believes that Iran would follow a "North Korea model," since Ahmadinejad's base of support among the "Islamist militias" has been "urging withdrawal from the NPT [Nuclear Non-Proliferation Treaty]." The Iranian government's "tactic" so far, Vatanka said, is governed by the belief that "by shouting the loudest, you'll get concessions [from the West]."
LISTEN
Listen to the complete panel discussion (about 60 minutes):

Real Audio
Windows Media

THE COMPLETE STORY: RFE/RL's coverage of the controversy surrounding Iran's nuclear program.
CHRONOLOGY
An annotated timeline of Iran's nuclear program.