Bush says in a new presidential directive that the travel ban affects members of the Belarusian government who were involved with alleged electoral fraud in the March 19 Belarusian presidential election, human rights abuses, or corruption that undermines the transition to democracy in Belarus.
The travel ban also applies to persons who have, through business dealings with Belarusian government officials, derived signficant financial benefit through policies that have damaged democratic institutions in Belarus, according to Bush's statement.
The United States and European Union have imposed a series of diplomatic sanctions against Belarus, saying the presidential election was neither free nor fair and condemning a crackdown against opposition political activists.
(Reuters, AFP)
Minsk, March 25
THE AUTHORITIES GET TOUGH: RFE/RL's Belarus Service filed these images from the police action against the March 25 demonstration in Minsk. Photographs by Maks Kapran.
LISTEN
Listen to the sounds of the demonstration:
Real Audio Windows Media
Real Audio Windows Media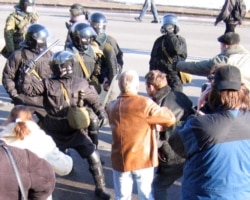 (RFE/RL)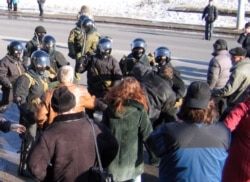 (RFE/RL)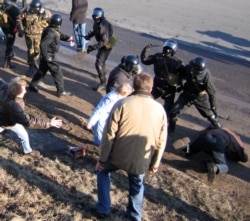 (RFE/RL)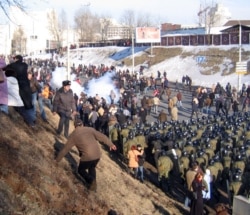 (RFE/RL)

THE COMPLETE PICTURE:
Click on the image to view a dedicated page with news, analysis, and background information about the Belarusian presidential ballot.


COVERAGE IN BELARUSIAN: Click on the image to view RFE/RL's coverage of the election campaign in Belarusian and to listen to RFE/RL's Belarusian Service.