State Department spokesman Sean McCormack made the comment in response to questions about suggestions that the European Union could offer Iran incentives linked to security if Tehran halts uranium enrichment.
"From the United States' perspective, is the United States going to be providing security guarantees [to Iran]? That's not something from the United States that's on the table," McCormack said.
Earlier on May 17, Iranian President Mahmud Ahmadinejad said Iran would not agree to halt uranium enrichment in exchange for a possible package of trade and technological benefits from the European Union.
Great Britain, France, and Gemany have indicated they could offer Iran a light-water nuclear reactor as part of an incentives package.
The United States and the European Union, despite Iran's denials, suspect Tehran of trying to develop nuclear weapons.
Meanwhile, UN Secretary-General Kofi Annan called in Tokyo today for a cooling of the rhetoric in the standoff over Iran's nuclear program. Annan said he hopes current Security Council discussions would give momentum toward a solution.
(compiled from agency reports)
Ahmadinejad's Letter To Bush
Ahmadinejad's Letter To Bush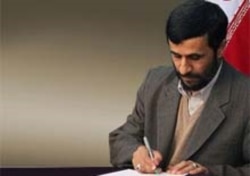 (Fars)


PRESIDENT TO PRESIDENT: On May 8, the Iranian government announced that President Mahmud Ahmadinejad had sent a letter to U.S. President George W. Bush. The letter was the first direct communication between leaders of the two countries since Iran's 1979 Islamic Revolution. RFE/RL has posted the English version of Ahmadinejad's letter that was posted on the Iranian president's website.
"The people will scrutinize our presidencies," AHMADINEJAD wrote. "Did we manage to bring peace, security, and prosperity to our people or insecurity and unemployment? Did we intend to establish justice, or just support special-interest groups and -- by forcing many people to live in poverty and hardship -- make a few people rich and powerful, -- thus trading the approval of the people and the Almighty for [that of those few]? Did we bring the world peace and security or did we raise the specter of intimidation and threats?"...(more)
ARCHIVE
For an archive of RFE/RL's coverage of Iran, click here.


THE COMPLETE PICTURE: RFE/RL's complete coverage of controversy surrounding Iran's nuclear program.
CHRONOLOGY
An annotated timeline of Iran's nuclear program.