The potentially lethal H5N1 strain of bird flu was first confirmed in Romania in October. So far no humans have been infected.
Agriculture Minister Gheorghe Flutur told residents in the capital "not to give in to panic."
A quarantine in the northern Bucharest affecting over 1,000 people since early May 22 was lifted today. Another quarantine in the capital's south was reduced today.
Romanian authorities were still unable to explain how the virus had reached Bucharest.
Romania's intelligence service (SRI) claimed that contaminated birds imported from Hungary and Slovakia were the source of this latest wave of the disease, but Prime Minister Calin Tariceanu said there was no evidence to support this.
(AFP, Mediafax)
Interview With UN FAO's Erwin Northoff
Interview With UN FAO's Erwin Northoff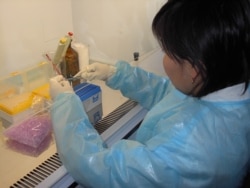 An expert at the National Virology Laboratory of the Kyrgyz Health Ministry (courtesy photo)
GETTING READY: Many have expressed concern about the ability of Central Asian countries to come to grips with a possible bird-flu outbreak. RFE/RL Turkmen Service correspondent Muhammad Tahir spoke with Erwin Northoff, news coordinator for the UN's Food and Agriculture Organization (FAO), about the issue. ....(more)