CIA Director-Nominee Passes U.S. Legislative Hurdle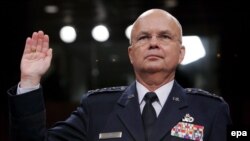 CIA director-nominee Michael Hayden is sworn in at the start of his confirmation hearing before the Senate Select Committee on Intelligence in Washington, D.C., May 18 (epa) May 23, 2006 -- The U.S. Senate Intelligence Committee today endorsed General Michael Hayden to direct the U.S. Central Intelligence Agency, the CIA.
The nomination must be confirmed by the general Senate in a vote scheduled this week.
U.S. President George W. Bush chose Hayden to head the agency after the resignation of Porter Goss several weeks ago. Hayden is a former chief of the U.S. National Security Agency.
(AFP, Reuters)